SENSAZIONALE! IMMAGINI DEL MOSKVA COLPITO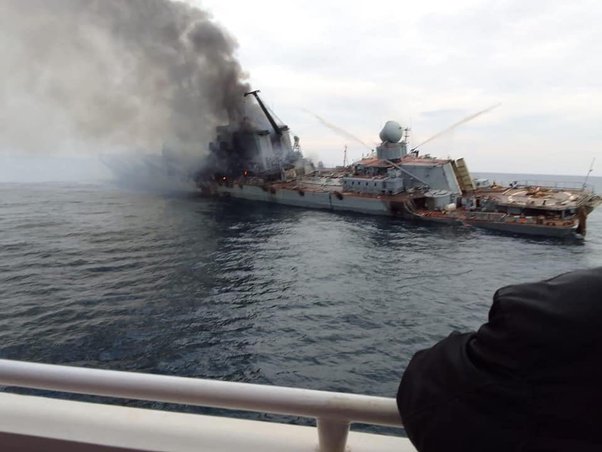 Ecco il video: https://twitter.com/i/status/1515958749705478152
Update below: credit to OSINT-1988
When the Turkish coast guard arrived, the first ship on scene, 83 minutes after the ship started sending an automated SOS, the ship was on its side, on fire.
See my crudely scribbled numbers on this picture?
1 and 2 were the sea launches that serve as the primary life boats for this ship. They can hold about 80 sailors(maybe 120 if they're super friendly) each.
3 is the helicopter hangars and the small boat recovery dock. During operations, in stormy weather, this is one of the few places onboard this ship where guys are on the deck in their cold water survival gear. The water was between 7 and 9 Celcius, it's not arctic water, but you get hypothermia super fast in that kind of water.
4. Are some of the primary armament of this ship. They're P-500 cruise missile and 17/20ths of their length is rocket fuel for the 1960s era engines used on these things.
So one or both of the Neptune missiles hit one or more of these and set the deck on fire.
If you weren't on the back of the ship and ready to jump overboard, you were set on fire. And if you weren't in cold weather gear with a float, and a light in the dark, you drowned or died of hypothermia.
The launches weren't recovered, because they never launched.
This thing died 110 years to the day after Titanic, and it didn't have enough life boats, and some of the survivors likely died too cold to stay conscious and swim.
Some of them burned alive while the missiles cooked off.
Would you want to talk to someone with third degree burns who was intubated, or someone in a coma from oxygen deprivation?
Would you want the important families of the sailors and officers that got their kids the cushy job to see how their kid died?
The totalitarian dictatorship in Moscow is trying to stave off a coup. You haven't seen it because either there are no real survivors, or the survivors aren't fit for the camera yet.
Update: