Et vocábis nomen eius Iesum – And you shall call His name Jesus.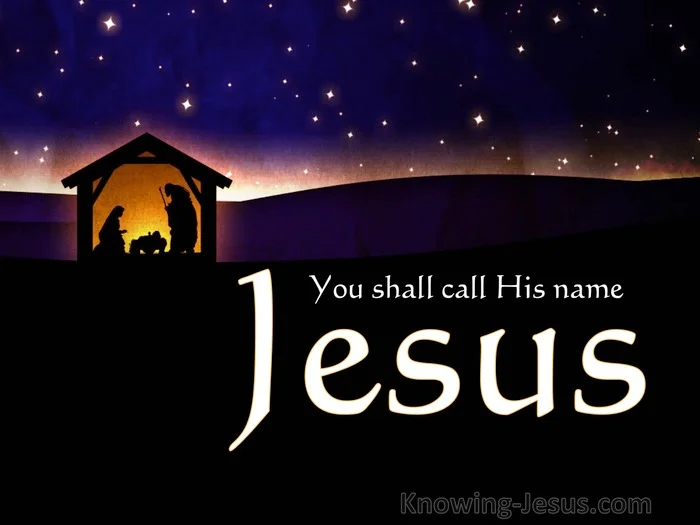 ORARI S.MESSA/TIMETABLE HOLY MASS DI SABATO 24 DICEMBRE 2022: ORE 17.30: In Vigilia Nativitatis Domini ~ I. classis
SANTA MESSA/HOLY MASS ONLINE DI DON ENRICO RONCAGLIA, su youtube channel:
e qui:
LITURGIA IN LATINO\ENGLISH:
MESSALE ROMANO 1962 (Summorum Pontificum PPBXVI):
COMMUNIO PREGHIERE\PRAYERS:
LECTIO, EVANGELIUM E OMELIA\HOMILY:
Matt 1:18-21
Cum esset desponsáta Mater Iesu Maria Ioseph, ántequam convenírent, inventa est in útero habens de Spiritu Sancto. Ioseph autem, vir eius, cum esset iustus et nollet eam tradúcere, vóluit occúlte dimíttere eam. Hæc autem eo cogitánte, ecce, Angelus Dómini appáruit in somnis ei, dicens: Ioseph, fili David, noli timére accípere Maríam cóniugem tuam: quod enim in ea natum est, de Spíritu Sancto est. Páriet autem fílium, et vocábis nomen eius Iesum: ipse enim salvum fáciet pópulum suum a peccátis eórum.
Gospel
Matt 1:18-21
When Mary, the Mother of Jesus, has been betrothed to Joseph, before they came together, she was found to be with child by the Holy Spirit. But Joseph her husband, being a just man, and not wishing to expose her to reproach, was minded to put her away privately. But while he thought on these things, behold, an angel of the Lord appeared to him in a dream, saying, Do not be afraid, Joseph, son of David, to take to you Mary your wife, for that which is begotten in her is of the Holy Spirit. And she shall bring forth a Son, and you shall call His name Jesus; for He shall save His people from their sins.
DALL'OMELIA DI (FROM THE HOMILY BY) DON ENRICO RONCAGLIA – SABATO 24 DICEMBRE 2022 ORE 17.30: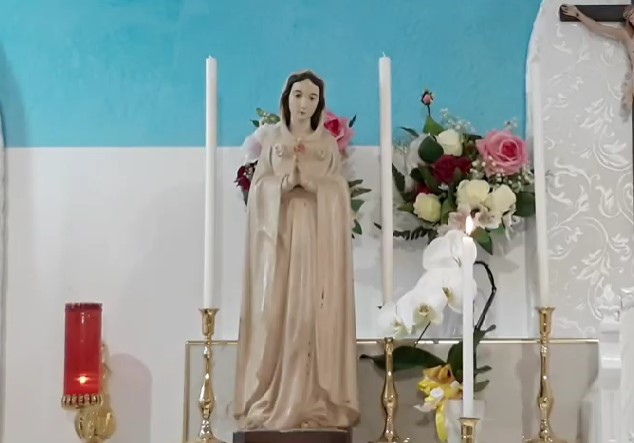 DALL'OMELIA DI DON ENRICO RONCAGLIA (**,1) (IN PREP.)
Siamo quasi giunti al termine dell'Avvento, domani e' la Vigilia del Natale.
Ancora la liturgia ci parla di San Giovanni Battista, straordinario profeta nel deserto.
Manca pero' ancora la figura principale, cioe' la BVM. E' lei la Beata tra le donne, in cui si incarna il Messia e Figlio di Dio. Il principio della salvezza e' quindi Maria Santissima che ha avuto questo privilegio straordinario!
Dobbiamo essere nella gioia della fede nell'attesa della nascita di Gesu' Bambino. Ringraziamo il Signore, grati per averci dato il lume della fede!
Sia lodato Gesu' Cristo! Sempre sia lodato!
____________________
(*) Questo commento e' scritto in tempo reale durante l'omelia. Mi scuso per l'eventuale misinterpretazione delle parole di Don Enrico.
(1) La Cappella dei Sacri Cuori e' d'ora in avanti sotto la protezione della Madonna Pellegrina di Montichiari (Brescia, 1946).
FROM THE HOMILY BY DON ENRICO RONCAGLIA (**,1) (IN PREP.)
We have almost reached the end of Advent, tomorrow is Christmas Eve. The liturgy still speaks to us of St. John the Baptist, an extraordinary prophet in the desert. However, the main figure is still missing, namely the BVM. She is the Blessed among women, in whom the Messiah and Son of God is embodied. The principle of salvation is therefore Mary Most Holy who had this extraordinary privilege! We must be in the joy of faith as we await the birth of the Child Jesus. We thank the Lord, grateful for having given us the light of faith!
Praised be Jesus Christ! Always be praised!
____________________
(*) This comment is written in real time during the homily. I apologize for any misinterpretation of Don Enrico's words.
(1) The Chapel of the Sacred Hearts is from now on under the protection of the Pilgrim Madonna of Montichiari (Brescia, 1946).