LA QUESTIONE DELLA "EXCESS MORTALITY"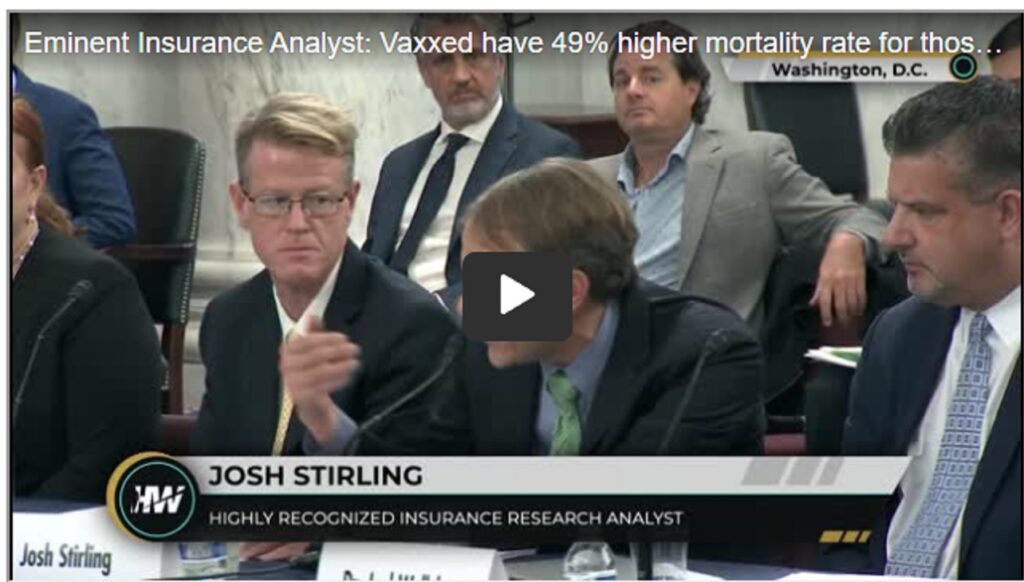 ELENCO DI ARTICOLI SULL'ARGOMENTO
Those 'under the age of 50 who took the vaccine now have a 49% higher mortality rate,' and individuals who received just one dose of the shots, 'have an approximately 145% worse mortality rate,' said analyst Josh Stirling. 'That ends up being something like 600,000 excess deaths per year in the United States.'
• Dec 8, 2022
'In this setting, if someone has taken a vaccine which is proven to cause cardiovascular death through the mechanism of myocarditis, [the cause of death] is the vaccine until proven otherwise,' the top cardiologist said.
• Dec 1, 2022
'If the goal [of the COVID-19 vaccine] was to reduce the world's population, it's working,' said Dr. Peter McCullough.
• Dec 1, 2022
Recently, a video produced by what appears to be an anonymous source, documents news reports of '1,000 Athletes Collapsing, Dying, Heart Problems, Blood Clots – March 2021 To June 2022.'
• Oct 19, 2022
There has been a noticeable awakening in recent months as a result of our reporting and that of many other truth organizations that have been rising up over the past few years.
• Sep 23, 2022
We have to ask ourselves what's really going on. Are the statistics tricking us, or is there something ominous going on that's not being reported?
• Sep 22, 2022
Though a 5% increase may seem modest, historically it is significant. When applied to the United States, this would indicate an extra 175,000 deaths per year, and for Europe likely more than 400,000.
• Aug 10, 2022
Dr. Theo Schetters has analysed Netherlands data and found a close correlation between fourth COVID jabs and excess mortality rates.
• Aug 6, 2022
Given the evidence of a correlation between vaccine doses administered and excess non-COVID deaths recorded, vaccination should not be dismissed as among the possible causes.
• Jul 7, 2022