UN CASO DI DEMENZIALE E MANIFESTA DISINFORMAZIONE: Russia spent $300M to covertly influence world politics (Washington Post, Sept. 13, 2022) – UPDATE Sept. 16, 2022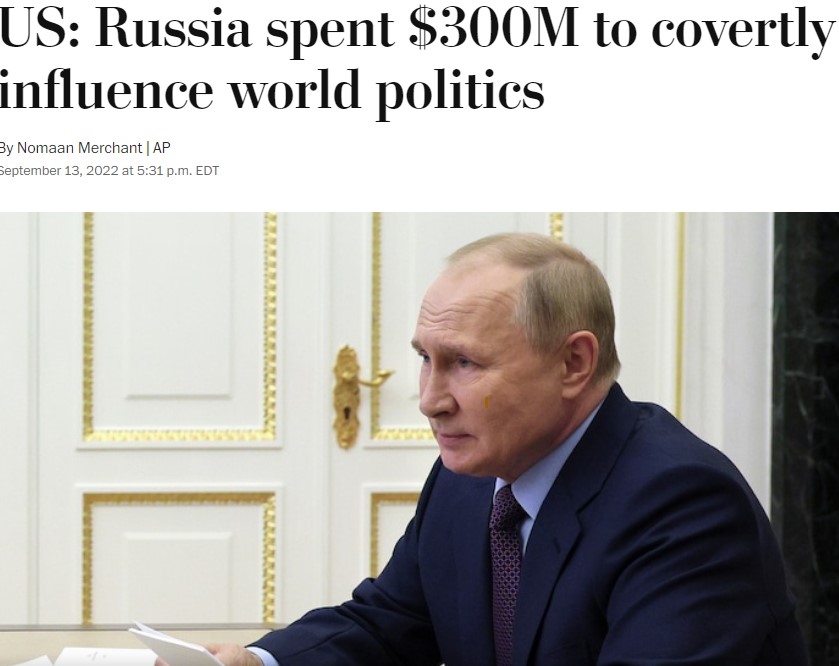 COMMENTO: SI TRATTA DI PURA DISINFORMAZIONE USA.
Ma perche' si tratta di manifesta disinformazione?
IL PRIMO MOTIVO: Non c'e' nessuna reale notizia! Si tratta di un normale "cable" dei servizi USA. Infatti da dove proverrebbe l'informazione (tecnicamente un "intelligence assessment", cioe' una semplice "stima di intelligence") se non dal qualche cosiddetto "esperto" analista in "proiezioni economiche"?
IL SECONDO MOTIVO: il cosiddetto "cable" non fa affatto menzione di casi specifici (infatti la proiezione riguarda il mondo intero!). Si tratta quindi di pura provocazione!
IL TERZO MOTIVO: la notizia non e' affatto ufficiale, come erroneamente riportato in TV. Infatti la sua fonte e' il Washington Post (che l'ha pubblicata) e non il Dipartimento di Stato.
QUARTO MOTIVO: Lo scopo della diffusione del "cable" resta, peraltro, totalmente oscuro. Un'ipotesi e' che si tratti di una possibile manovra della massoneria USA (che come noto controlla molti dei servizi USA) per evitare la vittoria del CDS in Italia e altrove in Europa (si tratta, ormai, di una tendenza diffusa dell'opinione pubblica in diversi paesi europei).
QUINTO MOTIVO: Blinken ha sparato pubblicamente una dichiarazione priva di corredo probatorio (un generico "fonti d'intelligence"). Secondo Paolo Guzzanti "Se un governo amico vuole avvertirti di qualcosa, di solito si parlano i capi di Stato, o comunque si va per via diplomatica. C'è una sciatteria sospetta." 
WASHINGTON (*) — Russia has covertly spent more than $300 million since 2014 to try to influence politicians and other officials in more than two dozen countries, the State Department alleges in a newly released cable.
The cable released Tuesday cites a new intelligence assessment of Russia's global covert efforts to support policies and parties sympathetic to Moscow. The cable does not name specific Russian targets but says the U.S. is providing classified information to select individual countries.
The cable, which was marked "sensitive" and not intended for foreign audiences but was not classified, contained a series of talking points that U.S. diplomats were instructed to raise with their host governments regarding alleged Russian interference. Among steps diplomats were told to recommend include sanctions, travel bans, and exposure of covert financing.
___________________________
(*) https://www.washingtonpost.com/politics/us-russia-spent-300m-to-covertly-influence-world-politics/2022/09/13/a8964f8e-3389-11ed-a0d6-415299bfebd5_story.html