RATIONAL REFUTATION OF "UNA CUMs" (BERGOGLIO)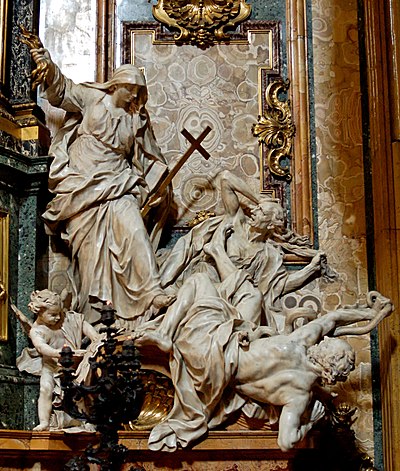 These are precisely the "UNA CUMs Bergoglio", that is, priests who instead of following the path of faith in Christ – the same one that the true and only one Vicar of Christ, Benedict XVI, continues to show us – follow a false heretical, schismatic and apostate pope like JM Bergoglio. After more than one year last Saturday, on Sept. 3, I have tried to convert another "UNA CUM" priest (aka PRO-Bergoglio).
I'll tell you how it went.
Let me say immediately that the situation, compared to a year ago, would seem to have changed radically, at least for this one "UNA CUM" priest (that I met). Who, unlike many of his colleagues, does not try to hide the truth of the facts.
NAMELY THAT Bergoglio is, now by almost universal acclamation, recognized for what he really is, that is, a heretical, schismatic and apostate. Which, if true for all "UNA CUMs", would certainly be a big step forward!
THE POSITION OF "UNA CUMs"
Let's see in detail the current position of the "UNA CUMs" that seems to emerge.
They still insist that:
1) Benedict XVI's 2013 resignation is valid
2) that Bergoglio is the duly elected pope
3) but that Bergoglio's apostasy / heresy would not make him fall as pope at all.
HOWEVER, they admit (AND THAT WOULD BE TWO FURTHER GREAT STEPS FORWARD!):
4) the validity of the admonition of the Virgin of Revelation (1947, Tre Fontane, Rome (1)) "(it is necessary) to obey, unless this order concerns faith and morality. Then no!"
5) Bergoglio being a heretic, in accordance with the condemnation expressed by St. Thomas Aquinas against heretics and schismatics, namely "ideo peccat quicumque eorum missam vel ab eis accipita sacramenta" (S.Th. III q.82 a.9) (1), IT CONSTITUTES DEADLY SIN to consciously follow the masses, sacraments, homilies and prayers WHICH ARE CELEBRATED BY BERGOGLIO PERSONALLY. After all, we know very well that his rites are heretical, as clearly are his incredible homilies in which he insults Jesus, denies his miracles, rejects Marian dogmas or commits acts of pagan idolatry!
THE CRUCIAL CONTRADICTION OF "UNA CUMs"
But the truly amazing contradiction on the part of the "UNA CUMs" is that they argue instead that:
6) the rites (masses, sacraments and rites) of all priests who celebrate UNA CUM Bergoglio are perfectly regular and are not at all affected by the aforementioned condemnation!
RATIONAL REFUTATION
But this is a blatant and manifest contradiction (if not totally absurd and paradoxical)! IN FACT IT IS CLEAR TO ANY WISE PERSON THAT ALL PRIESTS, WHO CELEBRATE THE HOLY MASS "UNA CUM BERGOGLIO" (IN UNION WITH BERGOGLIO) AND THUS INDICATE HIM AS THE LIVING VICAR OF CHRIST, AT THE SAME TIME EXPLICITLY ACKNOWLEDGE HIS MORAL AND RELIGIOUS AUTHORITY, SHARING WITH HIM ALL HIS PAST ACTS, DECISIONS AND STATEMENTS PERFORMED AS THE POPE. AS A CONSEQUENCE THEY UNAVOIDABLY BECOME HERETICAL AND SCHISMATIC TOO!
BUT, AS WE ALL WELL KNOW, BENEDICT XVI HAS NEVER STATED HIS RENOUNCIATION TO THE "MUNUS". INSTEAD, HE HAS OFFERED HIMSELF IN EXPIATION AS THE VICTIM SOUL OF THE CHURCH DEDICATING HIMSELF TO CONTINUOUS PRAYER ("ORANDO ET PATENDO")! THIS MEANS THAT BENEDICT XVI IS AND REMAINS THE TRUE REIGNING POPE!
REGARDING THE PROPER TASK OF ALL PRIESTS, THE SAME VIRGIN OF REVELATION (TRE FONTANE, ROME, 1948) CONFIRMS HIS FAMOUS SECOND REVELATION OF THE THREE FOUNTAINS (3), WHEN SHE SAYS THAT THEY MUST NOT BE:
"Outside the house of the Father where there is the holiness of the Father, the Pope, way, truth and life, there is darkness and confusion."
The moral?
We must not seek or demand perfection in priests. Of course, as long as they are with the true Pope Benedict XVI, because outside of them "there is darkness and confusion"! In this case they will be cleansed "of evil, because in the plans of redemption it will be [Jesus] himself who speaks to you". We must therefore exclusively put into practice their teaching based on the authentic word of God, namely the Gospels!
THE INVECTIVE AGAINST BENEDICT XVI
Finally, it is worth mentioning that the same "UNA CUM" priest, after I contested the invalidity of Bergoglio's masses and rites, SOMEHOW LOST HIS TEMPER AND expressed, with a thundering and almost shouted voice, a strong criticism of Benedict XVI, stating that – according to him due to his resignation in 2013, which he believes to be valid – the latter would be primarily responsible for the current situation of the Church (SIC!).
_______________________________________
(1) I MESSAGGI DELLA VERGINE DELLA RIVELAZIONE GUIDA PER I VERI CRISTIANI DEL PICCOLO RESTO, Max Tex ,13 Maggio 2021, https://www.proselitismodellascienza.it/2021/05/13/i-messaggi-della-vergine-della-rivelazione-guida-per-i-veri-cristiani/
(2) CORPUS THOMISTICUM Sancti Thomae de Aquino Summa Theologiae, tertia pars quaestio LXXXII, Articulus 9.
(3) SECONDA PROFEZIA DELLA VERGINE DELLA RIVELAZIONE, Max Tex, 29 Aprile 2021,m https://www.proselitismodellascienza.it/2021/04/29/seconda-profezia-della-vergine-della-rivelazione/