Duc in altum, et laxáte rétia vestra in captúram.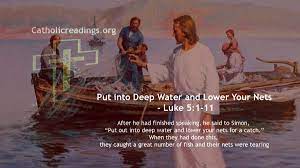 Put out into the deep, and lower your nets for a catch.
ORARI S.MESSA DI LUNEDI 4 LUGLIO 2022, ORE 8.00 (S. Messa Votiva della SS. Trinita',1511): Feria secunda infra Hebdomadam IV post Octavam Pentecostes ~ IV. classis
e qui:

LITURGIA IN LATINO\ENGLISH:

EVANGELIUM E OMELIA\HOMILY:
Evangelium
Luc 5:1-11
In illo témpore: Cum turbæ irrúerent in Iesum, ut audírent verbum Dei, et ipse stabat secus stagnum Genésareth. Et vidit duas naves stantes secus stagnum: piscatóres autem descénderant et lavábant rétia. Ascéndens autem in unam navim, quæ erat Simónis, rogávit eum a terra redúcere pusíllum. Et sedens docébat de navícula turbas. Ut cessávit autem loqui, dixit ad Simónem: Duc in altum, et laxáte rétia vestra in captúram. Et respóndens Simon, dixit illi: Præcéptor, per totam noctem laborántes, nihil cépimus: in verbo autem tuo laxábo rete. Et cum hoc fecíssent, conclusérunt píscium multitúdinem copiósam: rumpebátur autem rete eórum. Et annuérunt sóciis, qui erant in ália navi, ut venírent et adiuvárent eos. Et venérunt, et implevérunt ambas navículas, ita ut pæne mergeréntur. Quod cum vidéret Simon Petrus, prócidit ad génua Iesu, dicens: Exi a me, quia homo peccátor sum, Dómine. Stupor enim circumdéderat eum et omnes, qui cum illo erant, in captúra píscium, quam céperant: simíliter autem Iacóbum et Ioánnem, fílios Zebedǽi, qui erant sócii Simónis. Et ait ad Simónem Iesus: Noli timére: ex hoc iam hómines eris cápiens. Et subdúctis ad terram návibus, relictis ómnibus, secuti sunt eum.

Gospel
Luke 5:1-11
At that time, while the crowds were pressing upon Jesus to hear the word of God, He was standing by Lake Genesareth. And He saw two boats moored by the lake, but the fishermen had left them and were washing their nets. And getting into one of the boats, the one that was Simon's, He asked him to put out a little from the land. And sitting down, He began to teach the crowds from the boat. But when He had ceased speaking, He said to Simon, Put out into the deep, and lower your nets for a catch. And Simon answered and said to Him, Master, the whole night through we have toiled and have taken nothing; but at Your word I will lower the net. And when they had done so, they enclosed a great number of fishes, but their net was breaking. And they beckoned to their comrades in the other boat to come and help them. And they came and filled both the boats, so that they began to sink. But when Simon Peter saw this, he fell down at Jesus' knees, saying, Depart from me, for I am a sinful man, O Lord. For he and all who were with him were amazed at the catch of fish they had made; and so were also James and John, the sons of Zebedee, who were partners with Simon. And Jesus said to Simon, Do not be afraid; henceforth you shall catch men. And when they had brought their boats to land, they left all and followed Him.
DALL'OMELIA DI (FROM THE HOMILY BY) DON ENRICO RONCAGLIA – ORARI S.MESSA DI LUNEDI 4 LUGLIO 2022, ORE 8.00: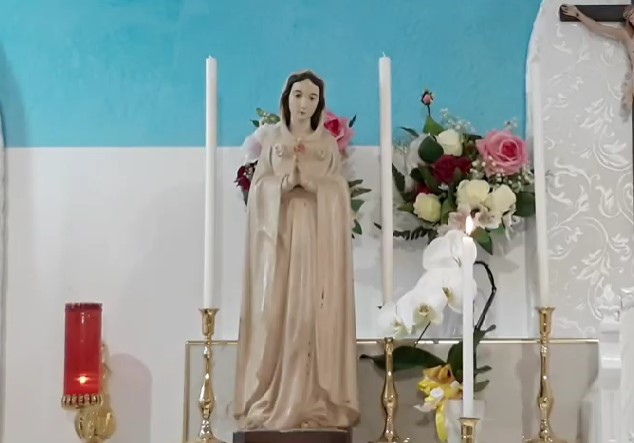 Giovanni 15:26-27
26 Quando verrà il Consolatore che io vi manderò dal Padre, lo Spirito di verità che procede dal Padre, egli mi renderà testimonianza; 27 e anche voi mi renderete testimonianza, perché siete stati con me fin dal principio.
Celebriamo questa messa in onore della SS. Trinita' in modo da vivere questa settimana nella lode di Dio ("Per la maggior gloria di Dio", ovvero "Ad Maiorem Dei Gloriam" secondo il motto di Sant'Ignazio di Loyola). Gli atteggiamenti di fede , speranza e carita sono quelli che piacciono al Signore!
Cerchiamo di dare gloria al Signore, seguendo l'esempio della BVM!
Sia lodato Cristo! Sempre sia lodato!
____________________
(*) Questo commento e' scritto in tempo reale durante l'omelia. Mi scuso per l'eventuale misinterpretazione delle parole di Don Enrico.
(1) La Cappella dei Sacri Cuori e' d'ora in avanti sotto la protezione della Madonna Pellegrina di Montichiari (Brescia, 1946).
FROM THE HOMILY BY DON ENRICO RONCAGLIA (**,1)
John 15: 26-27 26 When the Comforter comes whom I will send you from the Father, the Spirit of truth who proceeds from the Father, he will bear witness to me; 27 and you also will testify to me, because you have been with me from the beginning.
We celebrate this mass in honor of the SS. Trinity in order to live this week in the praise of God ("For the greater glory of God" on in Latin "Ad Maiorem Dei Gloriam" according to the motto of Saint Ignatius of Loyola). .
Attitudes of faith, hope and charity are what please the Lord!
Let us try to give glory to the Lord, following the example of the BVM!
Praised be Jesus Christ. Always be praised!
___________________
(**) This comment is written in real time during the homily. I apologize for any misinterpretation of Don Enrico's words
(1) The celebration Chapel of Sacred Hearts from now on is set under the protection of the Pilgrim Madonna of Montichiari (Brescia, Italy, 1946).