LA DITTATURA DEL WHO (World Health Organization) TREATY SECONDO CARLO MARIA VIGANO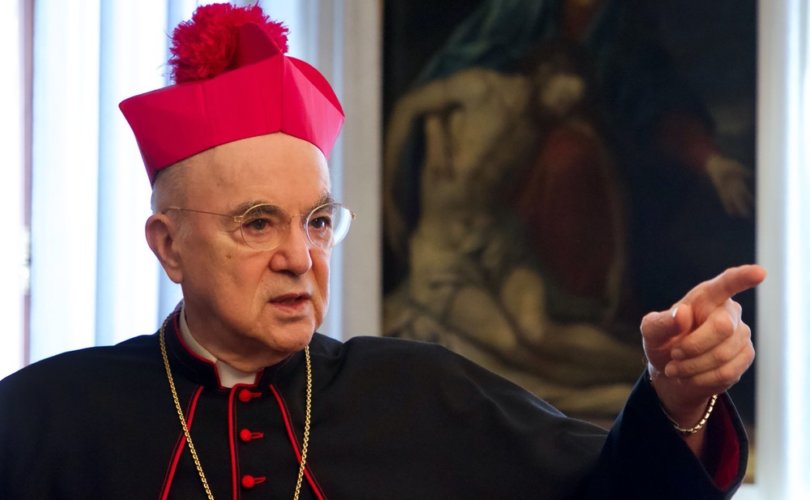 COMMENTO: LA MINACCIA ALLA SOVRANITA' NAZIONALE POSTA DAL NUOVO TRATTATO WHO (World Health Organization)
Fonte: Abp. Viganò: World Health Organization treaty is an attack on national sovereignty, part of a 'global coup'
(LifeSiteNews) Nei prossimi giorni, le Nazioni che aderiscono all'Organizzazione Mondiale della Sanità (OMS) voteranno risoluzioni riguardanti la gestione delle pandemie. Queste risoluzioni trasferiranno la sovranità sulla salute dei cittadini a un organismo sovranazionale che è in gran parte finanziato dall'industria farmaceutica e dalla Fondazione Bill & Melinda Gates.
Se queste risoluzioni saranno approvate a maggioranza, l'OMS avrà l'autorità internazionale esclusiva in caso di pandemia per imporre tutte le regole, comprese quarantene, blocchi, vaccinazioni obbligatorie e passaporti per i vaccini. Va inoltre tenuto presente che questa organizzazione gode dell'immunità, e quindi i suoi membri non possono essere né processati né condannati se commettono reati. I tecnocrati non eletti avranno paradossalmente più potere di quello che i cittadini conferiscono ai loro rappresentanti attraverso il loro voto democratico.
Dato che il cedimento della sovranità è considerato il reato di alto tradimento dalle leggi di ogni nazione, e che i parlamenti non possano legiferare contro gli interessi della Nazione, tanto meno violare le libertà naturali e i diritti fondamentali dei cittadini che rappresentano, credo che non sfuggirà si noti che questo tentativo dell'OMS di appropriarsi di un potere che appartiene propriamente alle singole nazioni intende impedire ogni sorta di opposizione all'"Agenda 2030″, che in campo sanitario mira anche a realizzare la drastica riduzione delle spese mediche e ospedaliere servizi, la privatizzazione del settore sanitario e la prevenzione delle malattie mediante vaccini.
(LifeSiteNews) – In the coming days, the Nations that adhere to the World Health Organization (WHO) will vote on resolutions regarding the WHO's management of pandemics. These resolutions will transfer sovereignty regarding the health of citizens to a supranational body that is largely financed by the pharmaceutical industry and the Bill & Melinda Gates Foundation.
If these resolutions are approved by a majority, the WHO will have exclusive international authority in the case of a pandemic to impose all the rules, including quarantines, lockdowns, obligatory vaccinations, and vaccine passports. It should also be borne in mind that this organization enjoys immunity, and thus its members cannot be either tried or convicted if they commit crimes. Unelected technocrats will paradoxically have more power than that which citizens confer on their representatives by means of their democratic vote.

Given that the yielding of sovereignty is considered the crime of high treason by the laws of every nation, and that parliaments may not legislate against the interests of the Nation, much less violate the natural liberties and fundamental rights of the citizens whom they represent, I believe that it will not escape anyone's notice that this attempt by the WHO to appropriate a power that properly belongs to individual nations is intended to impede any sort of opposition to the "Agenda 2030," which in the field of healthcare also aims to accomplish the drastic reduction of medical and hospital services, the privatization of the health industry, and disease prevention by means of vaccines.