VANDALI ALL'ATTACCO (anche dall'interno!) DELLE CHIESE CATTOLICHE NEGLI USA!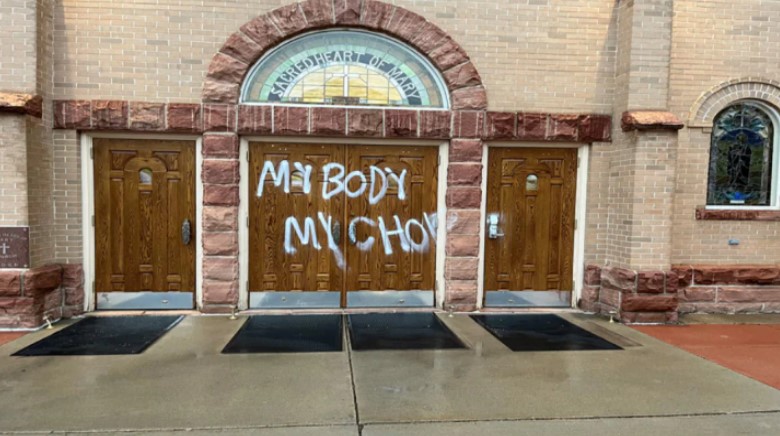 Episodi incredibili di vandalismo negli USA!
I sinistri attaccano (anche dall'interno come si vede nel tweet!) le chiese cattoliche al grido (stridulo) " Il mio corpo, la mia scelta".
The leftists shrieking "My body, My Choice" over the draft opinion leaked to the media the other day are now targeting churches for Mother's Day. Vandalism is just one part of their plan- protests are the other. So people just walking into their churches will now be faced with mobs of screaming protesters. The leak was absolutely a real insurrection.
Because Catholic doctrine is firmly against abortion, the "My body, My choice" crowd is targeting them first. But for all their loud shouting, they don't recognize the REAL "war on women." And they appear to advocate disrupting church services over the leak.
Whether you're a 'Catholic for Choice', ex-Catholic, of other or no faith, recognize that six extremist Catholics set out to overturn Roe. Stand at or in a local Catholic Church Sun May 8.

Twitter from pro-abortion group Ruth Sent Us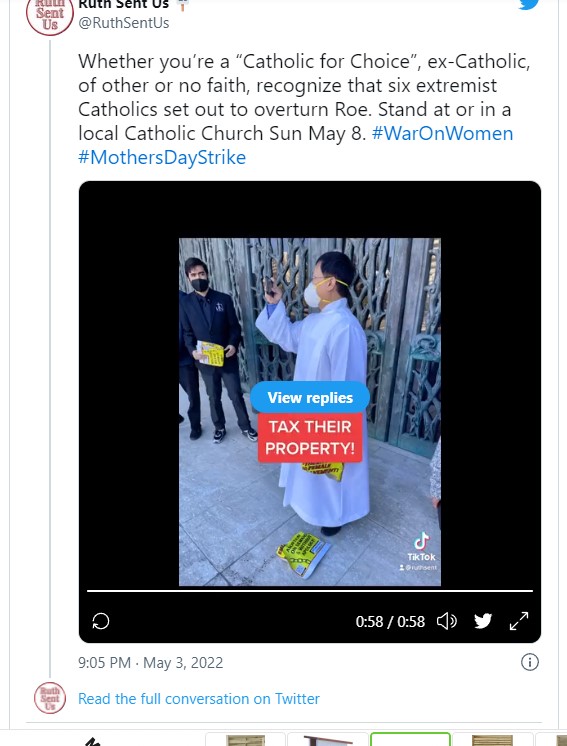 "This action is called for by a collective of spanish [sic] speaking women's rights groups + activists across the country, including from Bride's March, Dominican Women's Development Center, Ni Una Menus, and Las 17," according to the event schedule. "Several cities will be hosting protests outside of prominent churches in their towns, these can look like a group of people holding signs wearing Handmaids Tale outfits, passing out flyers outside to church goers or doing a die-in."
Abortion activists don "Handmaid's Tale" outfits in protest, comparing laws restricting abortion to the regime of ritualized rape and forced motherhood in Margaret Atwood's novel. Fox
Note how a FICTION novel ("Handmaid's Tale") is used by the left to argue their point. The reality of the situation is that the "war on women" is being perpetrated by the Biden regime and has nothing to do with the Supreme Court.
"In the wake of the shameless leak of a draft opinion of the Supreme Court, pro-abortion groups are now threatening to disrupt Catholic churches and to protest outside the homes of Supreme Court justices this Sunday.
President Biden must immediately and forcibly condemn these domestic terrorist threats. Anti-Catholic zealots are plotting to intimidate and harass Catholics across the country, along with justices and their families. This country was built on freedom of speech and freedom of religion. The President of the United States must stand up for both.
These threats follow a record number of attacks on Catholic churches, shrines, and symbols over the past two years. Just this week another Catholic church in Boulder, CO was desecrated by pro-abortion activists. We call on responsible leaders in Washington to unequivocally condemn these dangerous threats before they lead to violence, or worse.Brian Burch, CatholicVote President
Merely condemning the threats fromt he "My body, my choice" crowd is irrelevant and will do nothing. The fact is, the Biden administration is planning to cancel women entirely: they are redefining Title IX to include gender orientation rather than biological women. The years of women in sports are gone. The Roe v Wade conflict would simply resolve back to individual states. Whoever leaked this is a true insurrectionist and should be punished to the full extent of the law.