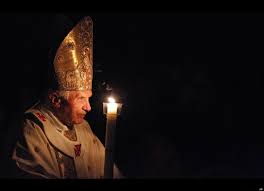 ORARI S.MESSA DI SABATO SANTO 16 APRILE 2022, VEGLIA PASQUALE ORE 23.00 – Sabbato Sancto ~ I. classis
S.MESSA ONLINE DI DON ENRICO RONCAGLIA, su youtube channel:
E QUI:

EVANGELIUM E OMELIA\HOMILY:
Evangelium
Sequéntia ✠ sancti Evangélii secúndum Matthǽum.
R. Glória tibi, Dómine.
Véspere autem sábbati, quæ lucéscit in prima sábbati, venit María Magdaléne, et áltera María vidére sepúlcrum. Et ecce terræmótus factus est magnus. Angelus enim Dómini descéndit de cælo: et accédens revólvit lápidem, et sedébat super eum: erat autem aspéctus eius sicut fulgur: et vestiméntum eius sicut nix. Præ timóre autem eius extérriti sunt custódes, et factu sunt velut mórtui. Respóndens autem Angelus, dixit muliéribus: «Nolíte timére vos: scio enim, quod Iesum, qui crucifíxus est, quǽritis: non est hic: surréxit enim, sicut dixit. Veníte, et vidéte locum, ubi pósitus erat Dóminus. Et cito eúntes dícite discípulis eius, quia surréxit et ecce præcédit vos in Galilǽam: ibi eum vidébitis. Ecce prædíxi vobis».
Gospel Continuation of the holy Gospel according to St. Matthew.
And in the end of the Sabbath, when it began to dawn toward the first day of the week, came Mary Magdalen and the other Mary to see the sepulchre. And behold there was a great earthquake. For an Angel of the Lord descended from heaven, and coming, rolled back the stone and sat upon it: and his countenance was as lightening and his raiment as snow. And for fear of him the guards were struck with terror and became as dead men. And the Angel answering, said to the women: Fear not you: for I know that you seek Jesus who was crucified: He is not here: for He is risen, as He said. Come and see the place where the Lord was laid. And going quickly, tell ye His disciples that He is risen: and behold He will go before you into Galilee: there you shall see Him. Lo, I have foretold it to you.
DALL'OMELIA DI (FROM THE HOMILY BY) DON ENRICO RONCAGLIA – ORARI S.MESSA ORARI S.MESSA DI SABATO SANTO 16 APRILE 2022, VEGLIA PASQUALE ORE 23.00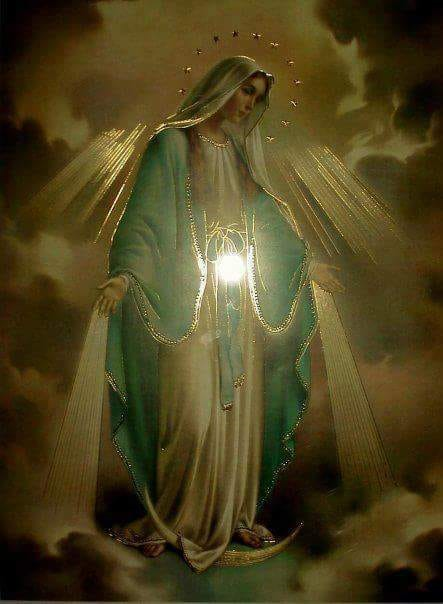 DALL'OMELIA DI DON ENRICO RONCAGLIA (*)
Abbiamo ascoltato l'annuncio dell'angelo. Dopo il silenzio del sabato tutti pensavano che tutto fosse finito con la morte di Gesu'. Ma non e' cosi'.
Solo Maria ha conservato la fede. A lei per prima e' apparso Gesu' Risorto!
Stamo vivendo un periodo triste della Chiesa. La chiesa e' come sepolta ed eclissata. Sembra solo apparire la falsa chiesa.
Ma avverra' la resurrezione della Chiesa! Dobbiamo rifuggire lo smarrimento e la depressione, con la fede nella rinascita della Chiesa.
Oggi e'anche il compleanno di Benedetto XVI, il giorno di sabato santo!. Lui sta patendo le stesse sofferenze della Chiesa! Gli siamo per questo vicino anche nella sofferenza! Tutte queste sofferenze saranno la grazia per la Chiesa futura! A cui siamo vicini!
Questa vittoria c'e' gia' per coloro che seminano nel pianto perche' raccoglieranno nella gioia!
Sia lodato Gesu' Cristo! Sempre sia lodato!
__________________
(*) Questo commento e' scritto in tempo reale durante l'omelia. Mi scuso per l'eventuale misinterpretazione delle parole di Don Enrico.
FROM THE HOMILY BY DON ENRICO RONCAGLIA (**)
We listened to the angel's announcement. After the silence of Saturday everyone thought that everything had ended with the death of Jesus. But is not so'.
nly Mary kept the faith. The Risen Jesus appeared to her first! We are living through a sad period of the Church. The church is as if buried and eclipsed.
The false church just seemed to appear. But the resurrection of the Church will happen! We must shun bewilderment and depression, with faith in the rebirth of the Church.
Today is also the birthday of Benedict XVI, the day of Holy Saturday !. He is enduring the same sufferings of the Church! We are for this neighbor!
All these sufferings will be the grace for the future Church! We are close to! This victory is already there for those who sow in tears because they will reap in joy!
Praised be Jesus Christ. Always be praised!
___________________
(*) This comment is written in real time during the homily. I apologize for any misinterpretation of Don Enrico's words