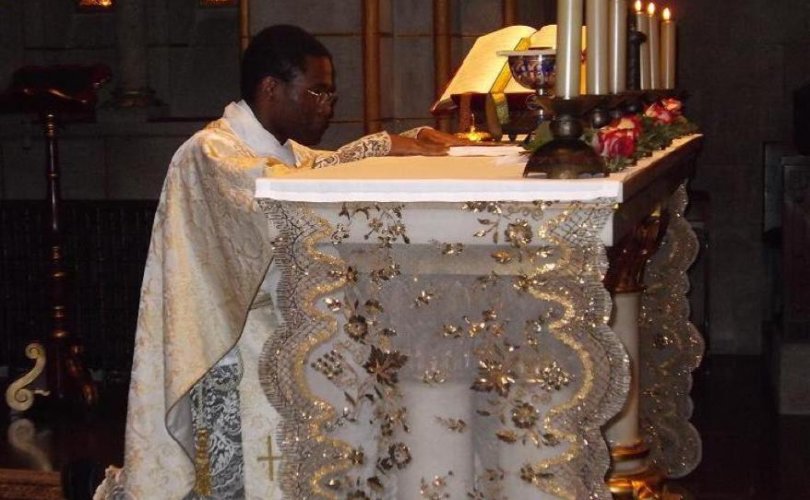 By February 25, Father Jesusmary was told that all appeals have been rejected and that his only possibility is now to appeal to Pope Francis.
by Dr. Maike Hickson, Thu Mar 3, 2022 – 9:00 am EST )(*)
(LifeSiteNews) – On February 2, Father Jesusmary Missigbètò was informed that his spiritual family, Opus Dei, expelled him for publicly criticizing Pope Francis for his support of same-sex civil unions. The 42-year-old African priest had posted on Twitter and Facebook several statements contradicting the Pope's gestures and words toward normalizing and accepting homosexual civil unions. By February 25, Father Jesusmary was told that all appeals have been rejected and that his only possibility is now to appeal to Pope Francis. He is now excluded from any priestly ministry.
Father Jesusmary – which is the nom de plume of Abbé Janvier Gbénou – told LifeSite in September of last year that he fears that "situation ethics" are now entering the Catholic Church's teaching. He has a doctorate in philosophy and has been with Opus Dei for nearly 25 years. In March 2021, Opus Dei suspended Father Jesusmary after he did not obey his superiors' orders to not publicly criticize the Pope.
Since then, he has not been able to preach, offer public Masses, or hear confessions, and he is not living in an Opus Dei residence anymore, but with his family in Côte d'Ivoire (West Africa). Fr. Jesusmary comes from a poor family with nine children.
The African priest was alarmed when, on October 21, 2020, in Evgeny Afineevsky's documentary Francesco, Pope Francis said, "What we have to do is a civil coexistence law; they have the right to be covered legally. I defended this." It was after this statement that the priest started speaking up in public.
But he is not only concerned about the matter of homosexuality. He told LifeSiteNews last September that, "beyond Francesco and the homosexual issue it raises, I see an apparent victory of situation ethics over traditional Catholic morality."
"Since 2016," he continued, "with the publication of the apostolic exhortation Amoris Laetitia, several Catholic moral experts (notably the German philosopher Robert Spaemann and the English theologian Aidan Nichols, OP) have warned that the pontificate of Pope Francis seems to be opening the doors of traditional Catholic morality to a certain situation ethics."
Father Jesusmary is now being punished for being "disobedient," but he is clear on what true obedience and false obedience is. "Personally," he stated, "I am not and will never be against obedience, but I think that obedience has a limit: sin. You cannot demand a person obey by keeping silent about the truth."
As an example, the African priest mentioned the Church's sex abuse crisis: "The Church has already paid the price with the pedophilia scandals that have now caught up with us and which are not an honor for us. Due to a misunderstood obedience, how many cardinals did not speak out? How many bishops have kept silent? How many priests?"
Therefore, Father Jesusmary does not believe that he is disobedient, but, instead, that he is serving the Church with his work. He has written the book "Homosexuality vs Papacy" and has published two open letters. Three more, about situation ethics in the magisterium of Pope Francis, are coming. These letters will serve for his second book, "Truth, Half-Truth and Situation Ethics: What about Pope Francis' pontificate?" One of Father Jesusmary's open letters to Pope Francis can be read here.
His appeal to the head of Opus Dei, Msgr. Fernando Ocáriz, has failed. On February 8, this prelate rejected his appeal and confirmed "the dismissal of Abbé Janvier Gbenou," as can be seen in this document. Opus Dei, in its documents, pointed out that it rebuked Father Jesusmary repeatedly and that he "continued to disobey," as it says in the official decree of February 1 that was given to Father the following day. His superior Abbé Serge Abdoulaye Sissoko also then made explicit reference to the fact that the priest had published another interview with LifeSite on January 8 (it was actually published the day before). His superior wrote of "the gravity of such conduct and of the damage it caused to souls."
In October last year, Manuel Lago, the press speaker of the Ivory Coast branch of Opus Dei, told LifeSiteNews the same about Fr. Jesusmary, speaking of the "damage" caused by his public statements criticizing the Pope. After describing the penalties chosen for this priest, Lago wrote that "our attitude is that we pray for him, hoping that he will change his conduct, that he will prefer communion among us and with the Sovereign Pontiff and that he can resume the exercise of his ministry."
After Father Jesusmary has used all means of appeal (see both the first February 1 decree and the February 8 decree, which was given to Father on February 25), his superiors told him that his last resort is to "make an appeal before the Holy See in accordance with canons 1735 and 1737 of the Code of Canon Law." Father Jesusmary then immediately wrote an appeal to the Holy Father with two letters, an official one and a private one. The official letter is published on his Facebook and Twitter pages. The private letter is a one-page handwritten letter which LifeSite was able to access (see handwritten letter here and a translation of it here).
In this private letter to Pope Francis, this African priest did retract any of his statements, but, instead, refers to St. Catherine of Siena who also once called a pope – Pope Gregory XI – to resign should he not fulfill his duties. Father Jesusmary himself had also called in the past upon Pope Francis to resign should he not retract his erroneous teachings. But in his private letter to the Pope, the priest insists more in the rectification of Pope Francis errors and asks the Pope: "I humbly beg you: please rectify the errors of your pontificate… for your good and that of the Church." As he told LifeSite's John-Henry Westen in a January 7 interview, he would not make a call to resign again.
In this Lenten season, a time of humility, repentance, conversion, and penance, is it possible that a poor African priest with the love, trust, and faith of a loyal son could reach the heart of Pope Francis?
___________________________
(*) permission pending (can't find email add.), https://www.lifesitenews.com/blogs/opus-dei-expels-african-priest-criticizing-pope/