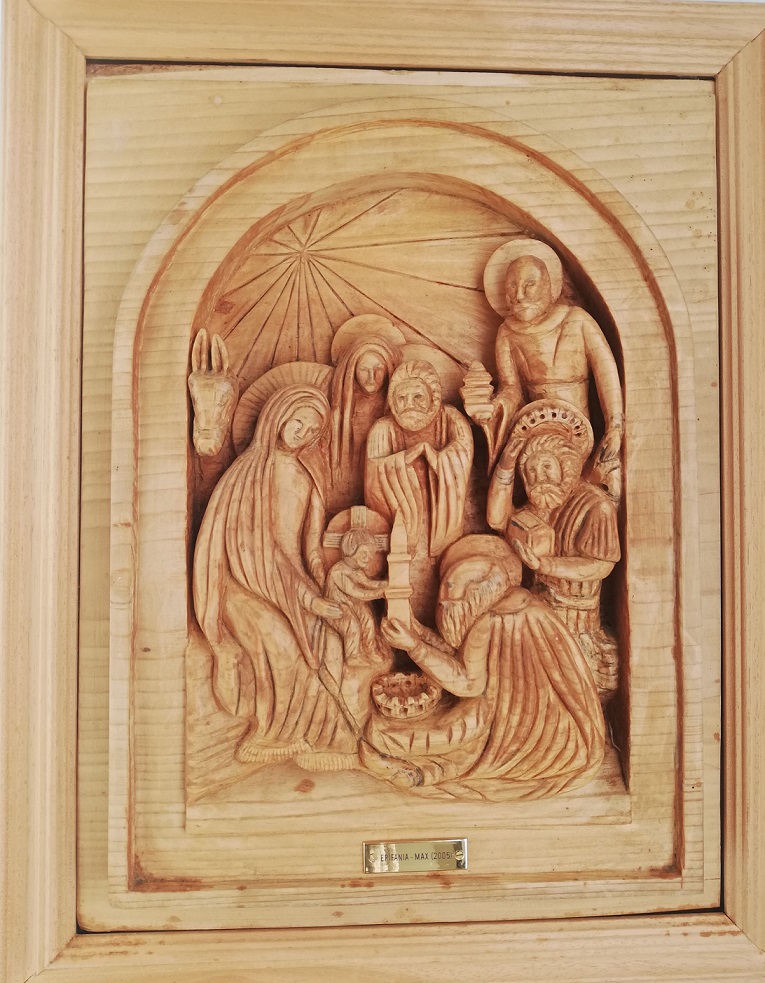 I found our a nice piece signed by Fr. Boniface here titled When did you realize that Bergoglio was not Pope?
This is Fr. Boniface's experience.
When did you realize that Bergoglio was not Pope?
I would like readers to comment on their experience. The Holy Spirit does not leave us confused and speaks to the humble and simple to the heart and confirms the truth, leading us to the complete Truth, in addition to warning us of dangers and enemies. Many times, different people have told me: "That moment was definitive for me… I saw it clearly when…". In many ways the Lord has placed clearly in the hearts of his faithful ones the understanding of the truth, of which the Spirit bears witness to us. And this is very uplifting. Because God is present in his Church, we build each other up by sharing what he gives us and what he does in us: his Word and his testimony.
I advance my experience of "when I found out", to encourage readers as well.
I was already alert by the private prophecies, mainly that of the last Popes of Saint Malachi and Garabandal, that we were approaching a special moment, in which a "bad Pope" could arrive, the "foolish shepherd" of Zechariah 11, a usurper who was the false prophet that the New Testament tells us about. He considered that Benedict XVI was the last Pope and the katejon who would have to be "removed", set aside in some way, before he died, so that the mystery of iniquity could unfold. I became progressively aware of this, especially after 2010. But everything still remained a hypothesis that had to be verified by the facts, since the interpretation of the prophecies could be different. When I found out about the resignation, I was in shock: At that time I did not remember those arguments, I forgot all about it,
The conclave arrived and Bergoglio arrived. For my mother, the definitive sign when she realized that he was not Pope was that he renounced the red shoes (ALERT #1): there she clearly understood by grace that this man did not accept putting himself at the service of the Lord until he gave his life, but rather that he was an enemy of Christ.
The first reports, referring to his background in Buenos Aires, were to be feared. In addition, arguments soon arrived questioning the validity of the waiver, such as those that pointed out gross errors in the wording of the Latin text. The evidence pointed in that direction. But we had to wait for events that would confirm everything (or not). And for me the moment when I said "that's it, I don't wait any longer, it's over, he's not Pope and he's also an enemy of Christ", was two months later, when he gave a speech to representatives of Caritas on May 16, 2013 receiving the Executive Committee of Caritas Internationalis with its president, Cardinal Óscar Andrés Rodríguez Maradiaga (1,2).
It was the first time that he denied the multiplication of the loaves. But it was not only that, I made a detailed study of that speech and it was all so convoluted, his thought so twisted, so dark, that it could only come from a preternaturally darkened mind, enemy not only of Christ, but of all truth and even of the logic
It was the first time that he denied the multiplication of the loaves. But it was not only that, I made a detailed study of that speech and it was all so convoluted, his thought so twisted, so dark, that it could only come from a preternaturally darkened mind, enemy not only of Christ, but of all truth and even of the logic
It was the first time that he denied the multiplication of the loaves. But it was not only that, I made a detailed study of that speech and it was all so convoluted, his thought so twisted, so dark, that it could only come from a preternaturally darkened mind, enemy not only of Christ, but of all truth and even of the logic (ALERT #2) .
I found in that speech very strong [wrong] things:
Six times he explicitly denied the word of God (twice saying "no, no, no").
He reduced the transcendent and the power of God to magic (ALERT #3), like those who did not believe in Christ in his time, who accused him of expelling demons by the power of Beelzebub.
He attacked the Church, the Body of Christ, equating it with the social body of the financial networks that caused the economic crises.
He defended a radical immanentism (ALERT #4), treating human problems as the only ones, disappearing spiritual problems, the deep and real cause of the previous ones.
By denying the cause, he also denied the proper remedy: the solution that was needed according to him to solve the problems was "our will and our caress" (Pelagianism and sentimental emotivism (ALERT #5)).
He denied the Providence of God (ALERT #6), and led to trust only in human support (making himself worthy and distributor of the curse of Jeremiah 17,5).
He denied reality, and affirmed the myth (in good idealistic logic (ALERT #7)): he denied the miracle performed by Christ in the multiplication, but he gave a mythical explanation: the bread simply "doesn't run out" when "we want it". Drawing the consequences, according to the intention of Christ in that miracle, Bergoglio induces to deny the reality of the miracle of transubstantiation, to affirm a myth: Christ would not be really and substantially present in the Eucharist, but diffusely or symbolically present "if we want" .
Not only does it deny God's intervention (ALERT #8), but there is no reference to Jesus Christ and salvation (ALERT #9). He shows that he is not moved by the Holy Spirit that leads him to confess Jesus Christ as Lord (cf. 1 Cor 12,3), but that he is an antichrist, who denies Jesus Christ (cf. 1 Jn 4,3; 2, 22). How can one explain the passage of the multiplication of the loaves and fishes without referring to Christ and his redemptive mission?
The plain goal he outlines is human promotion (humanitarism (ALERT #10)), without any reference to the need for conversion in men for their true "promotion."
It creates a horizontal "spirituality" (ALERT #11) of giving oneself to one's neighbor, without reference to Christ.
It finds strength in man, in the "feeling of caress", not in the Holy Spirit, contradicting Scripture (cf. Za 4,6; Ps 20,7)(ALERT #12).
It annuls the gospel, reducing it to two passages that it distorts into a progressive-modernist humanist interpretation: the parable of the good Samaritan of Lk 10 and the eschatological judgment of Mt 25. This was what the liberals of the 70s and 80s did in their mental and ecclesial chaos , when in many places they changed the readings of the Mass, annulling the Old Testament and substituting it for Indian or Chinese stories or fables of any kind, and substituting the gospel of the day for one of these two texts. (ALERT #13).
For him, the image of God in man has to grow through human and social development (ALERT #14).. There's no more. That is to say: transcendence is loaded, both in the origin and in the goal. Here and now, and in the human way.
Of course, in this line it does not clash that he says that "hopefully we have to finish off [disassemble, sell, deconsecrate, abandon] the churches to feed the poor." Sure, what are churches for? (ALERT #15).
For him, the truth is what theologians deal with (not the Magisterium! And be careful, it is far from those of us who are not theologians). (ALERT #16).While love is what Caritas deals with (note, not the Church). And the Church has fallen into heresies (eye, the holy Church, the Church that has the assistance of the Spirit) every time she has left the "feeling of caress" or "tenderness" and "became too serious" (sic) . How did she get too serious, defending the truth? Truth is the enemy of charity and heresy is not in the doctrine but in the lack of tenderness or caress?
As "the flesh of Christ" is, according to him, the marginalized, the sick, the immigrant in a boat, etc., it is understood what he had done shortly before in Lampedusa: celebrate Mass with a chalice made of patera wood.(ALERT #17).
He never spoke of himself as Pope, but as Bishop of Rome (ALERT #18). And he does not feel like a Pope, nor does he speak as such, because he says: "we, in Buenos Aires, have…". Benedict XVI will never have said: we in Germany, or John Paul II: we in Poland… The Pope is universal and identifies with everyone.
It was an oral speech, not read, and therefore more personal, not written by third parties. It was the first speech of his that I analyzed in any depth, and the last. I couldn't even finish the analysis, I didn't get to the end, because "my neurons hurt too much" from facing such a sinister "forma mentis" and opposed to the mind of Christ. It was torture for me. But the conclusion I drew was diaphanous.
I encourage readers to leave your "when did you find out" experience in the comments. Thank you very much. United in truth and charity, united in Christ and in his Church, united with the Vicar of Christ, Benedict XVI. The peace of the Holy Spirit, and my priestly blessing to all +
Father Boniface
_______________________________________
(2) traduzione in italiano del discorso originale di JM Bergoglio (16 maggio 2013, incontro con il Comitato esecutivo della Carita Internazionale con il presidente Cardinale Óscar Andrés Rodríguez Maradiaga.
Traduzione dall'originale in spagnolo, trascritto dal gesuita Guillermo Ortiz, Programas en español de Radio Vaticana: 
Papa Francesco risponde:

Innanzitutto ti ringrazio.

Per quanto riguarda i pani ei pesci, vorrei aggiungere una sfumatura: non si sono moltiplicati, no, non è vero. I pani non sono finiti. Poiché la farina e l'olio della vedova non finivano. Non sono finiti. Quando dici moltiplica, puoi confonderti e credere che funzioni magicamente, no. No, no, la grandezza di Dio e l'amore che ha messo nei nostri cuori è semplicemente tale che, se vogliamo, ciò che abbiamo non finisce. Molta fiducia in questo.

Quattro cose mi sono rimaste impresse. Prima la crisi, seconda la carezza, terza lo sviluppo e quarta la spiritualità. E un'appendice che vorrei aggiungere: i profughi.

La crisi. Stiamo vivendo un momento di crisi molto grave, molto grave. E non è solo una crisi economica. Questo è un aspetto. Non è solo una crisi culturale, è un altro aspetto. Non è solo una crisi di fede. È una crisi in cui l'uomo è colui che subisce le conseguenze di questa instabilità. Oggi l'uomo, la persona umana, è in pericolo. La carne di Cristo è in pericolo. Si noti che per noi ogni persona e ancor di più se è emarginata, se è malata, è carne di Cristo. In altre parole, il compito della Caritas è soprattutto realizzare questo.

C'è un simpaticissimo Midrash, di un rabbino del 1200 più o meno, medioevo, che racconta la costruzione della storia di Babele. E, naturalmente, hanno avuto difficoltà a realizzare i mattoni. Dovevano cercare l'argilla, impastarla, mettere la paglia, metterla insieme, cuocerla. I mattoni furono poi portati sulla torre per renderla più alta. Quando cadeva un mattone era un dramma, punivano chi lo aveva lanciato, ne punivano un altro, era praticamente un problema di Stato. Era costato così tanto, il mattone era un tesoro. Ma se cadeva un operaio, non succedeva nulla.

Questo Midrash riflette ciò che sta accadendo ora. C'è squilibrio negli investimenti finanziari, grande dramma, grande incontro internazionale, tutti si stanno muovendo. Ma le persone muoiono di fame, le persone muoiono di malattia: Ebbene, Dio vi aiuti!

Per me questo Midrash riflette il meglio. La nostra civiltà si è confusa e invece di far crescere il creato perché l'uomo sia più felice ed essere la migliore immagine di Dio (questo è un mandato che abbiamo), fa crescere e fonda il creato, la parola è dura, ma penso che è esatta, la cultura dello scarto. Quello che non funziona viene scartato, nel cestino. I bambini, gli anziani con quell'eutanasia segreta che viene usata e i più emarginati. Questa è la crisi che stiamo vivendo. Uno di voi ha fatto riferimento alla crisi e penso che questa sia la crisi più grave.

Secondo, la carezza: l'immagine che mi viene in mente è da tanti dipinti che abbiamo visto, di donne che aiutano i feriti in una guerra. Il campo di battaglia, ferito, guarisci, guarisci, guarisci. Ci sono momenti in cui la situazione è tale che devi semplicemente neutralizzare il male. C'è fame: nutrilo. Poi vediamo come lo promuoviamo. Ma l'urgenza del momento, sono feriti, li guariscono. Questa è una guerra culturale che lascia molti feriti ai margini della strada. E la carezza della madre Chiesa è guarire. Ma noi diciamo "questo pover'uomo non possiamo promuovere". Ora curalo, poi vediamo come lo promuoviamo. In altre parole, saper distinguere le emergenze dai bisogni più radicali. Ovviamente il bisogno di promozione è più radicale, è vero. Ma c'è qualcuno qui che sta morendo. Devi dargli il primo soccorso. La carezza della Madre Chiesa.

E poi la carezza nella promozione. La Caritas non è solo pronto soccorso. È necessario. In tempo di guerra e di crisi bisogna sanare i feriti, sanare i malati, sanare le conseguenze di tanta ricchezza. Ma devi anche promuovere. Il prima possibile, promuovi, ma prima risolvi il problema. Certo, vedi cosa devi fare. Un sacco di soldi vanno in questo! Spero che tutto passi e che dobbiamo finire le chiese per sfamare i poveri.

Lo disse chiaramente san Giovanni Crisostomo: «Perché venite ad adornare la Chiesa e non ad adornare il corpo di Cristo, che sta morendo di fame». O la carezza. Per me l'espressione più bella della carezza di fronte a un bisogno è quella del buon samaritano che non dice: lo prese in braccio, lo portò all'osteria, pagò e se ne andò. No! Ha lavato le sue ferite, ha medicato le sue ferite, poi lo ha preso in braccio e lo ha portato e ha firmato una cambiale per ciò che mancava. Lava le ferite del momento.

Promozione: come raggiungere lo sviluppo dei nostri popoli con la promozione? Non saprei come dirti i veri mezzi ma non dovrebbe essere lasciato da parte. Devi far crescere l'immagine di Dio in questa persona che stai aiutando a crescere.

Penso a Don Bosco. Don Bosco si è trovato nella sua parrocchia, nella sua terra, in un momento di crisi, di grande crisi, di grande povertà, tanti ragazzi che camminavano per le strade, certo, affamati e impararono i vizi e finirono nella delinquenza e quando grande forse sul patibolo. L'ha visto e ha detto di no! Ed è iniziato con quell'idea della scuola di arti e mestieri e così via.

La visione della promozione è quella di fornire uno strumento in modo che possano guadagnarsi da vivere. Questi santi erano chiaroveggenti; chiaroveggenti nell'uso dei media promozionali. A volte pensiamo: "facciamo un'università per i più emarginati", ma iniziamo dando loro un lavoro perché possano lavorare. Poi passiamo all'altro. Dobbiamo avere quella saggezza della progressione nella promozione. Per me questa è la chiave.

E parlando di Don Bosco oggi, noi a Buenos Aires abbiamo tanti villaggi di emergenza, tanti villaggi e 22 giovani sacerdoti lavorano nei villaggi. Sono parrocchie, ogni paese è una parrocchia. E loro, dopo aver pensato a cosa fare con i giovani, hanno detto che la cosa migliore per oggi nei quartieri periferici è il metodo Don Bosco. In altre parole, quella visione di saper trovare ciò che è fattibile nella promozione.

E la quarta è la spiritualità della Caritas. Il fondamento della spiritualità della Caritas è il dono di sé, l'uscita da sé, l'essere al servizio continuo delle persone che vivono alla periferia. Una spiritualità che può essere ispirata da Matteo 25. Gesù, quando ci arriviamo, non ha intenzione di dirci: mi congratulo con te, vieni, entra perché hai studiato così bene la vita, conosci bene la teologia, lo sai, lo sai Quello. No! È molto buono. Ma sta per dirci: venite, perché avevo fame e mi avete sfamato, ero in prigione e mi avete visitato, ero malato e siete venuti a curarmi, ero solo e mi avete accompagnato. La spiritualità della Caritas è la spiritualità della tenerezza e abbiamo escluso dalla Chiesa la categoria della tenerezza. A volte la nostra serietà, tra virgolette, di fronte alla pastorale, ci ha portato a perdere questa categoria che è la maternità della Chiesa.

La chiesa è madre; fondamentalmente madre e questa categoria di tenerezza per me è l'asse a cui deve fare riferimento la spiritualità della Caritas. Recupera la tenerezza per la Chiesa.
Pertanto, la vostra funzione è bipolare: da un lato, andare alle periferie esistenziali per aiutare, curare, promuovere, e tutto ciò che abbiamo detto, e dall'altro, portare la Chiesa, cioè portare le vostre comunità alla Chiesa . , le diocesi, questo sentimento di tenerezza, che è più di un sentimento, è un valore, è uno dei tratti che la Chiesa madre non può perdere. La Chiesa è sempre entrata nelle deviazioni, nelle sette, nelle eresie quando diventava troppo seria, cioè quando dimenticava le carezze e le tenerezze. Per me la spiritualità della Caritas va così.

Infine i profughi. I rifugiati sono un dramma e devi accompagnarli. A pensare che in Siria, in questo momento, lasciano la Siria per il Libano, penso che ne siano passati più di un milione. Persone che vengono dall'Iran, sono entrate in Siria e sono andate in Libano. Persone che hanno lasciato tutto!, che sono per strada. Ebbene, lo dico perché è un esempio fondamentale. Ma, in tutti i nostri paesi ci sono profughi, ci sono persone che sono entrate di nascosto, che non hanno documenti; o persone che vengono sfruttate per il lavoro schiavo, che gli sottraggono il passaporto e le fanno lavorare come schiave. Ebbene, tanta tenera presenza della Chiesa.

Beh, abbiamo detto fino alle 10 e sono le 10. Quindi apprezzo molto quello che fai. Insegnateci tutti, siate testimoni della tenerezza della Santa Madre Chiesa. Grazie!

E ora, prima di salutarvi uno per uno, chiederò al Signore di benedirvi. Per intercessione di Maria Santissima, sempre vergine e del glorioso Patriarca San Giuseppe, Santa Teresa di Gesù Bambino, della Beata Teresa di Calcutta, ti benedica Dio Onnipotente, Padre e Figlio e Spirito Santo.



_____________
(*) https://www.fromrome.info/2022/02/23/fr-boniface-recounts-the-moment-when-he-realized-bergoglio-is-not-the-pope/