L'ABISSO INCREDIBILE DELLA FALSA CHIESA: Il Cardinale Jean-Claude Hollerich chiede che il peccato di omosessualita' sia cancellato!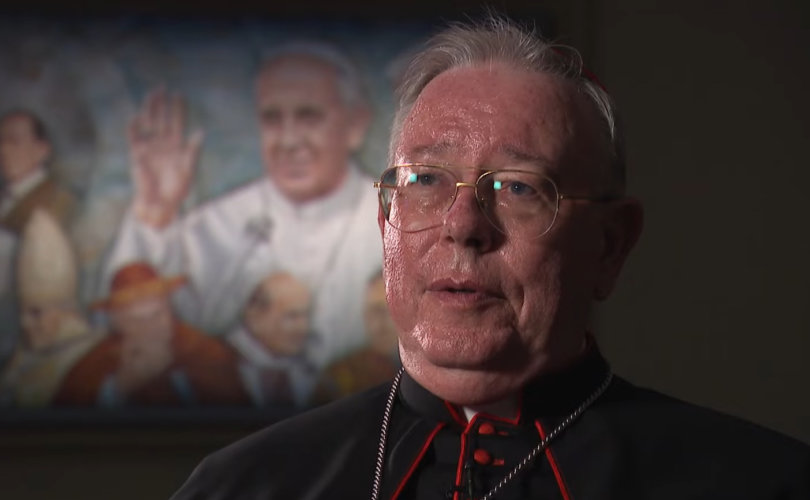 Chief Head of European bishops' commission says Church teaching on homosexuality is 'false,' demands change. 'I believe it is time for us to make a revision in the basic foundation of the teaching,' Cardinal Jean-Claude Hollerich said.
Fri Feb 4, 2022 – 10:51 am EST
VATICAN CITY (LifeSiteNews) — The president of the Commission of the Bishops' Conferences of the European Community (COMECE) has voiced support for changing the Church's teaching on homosexual acts, describing the biblical determination of sin as "false."
Jesuit Cardinal Jean-Claude Hollerich, who is also the Archbishop of Luxembourg and was appointed by Pope Francis as Relator General of the 2021–2023 "Synod on Synodality," made the remarks in comments to the German Catholic news agency KNA.
Asked by reporters how he approaches the Church's determination that homosexual acts are sinful, the cardinal responded, "I believe that this is false." He said that "thinking further about the teaching … can lead to a change in teaching." The supposed method of rethinking immutable Church teaching, Hollerich said, is one espoused by Pope Francis.
The Pope has made contrasting remarks on homosexuality within the Church. In 2018 the Pope affirmed that men and women with "that kind of ingrained tendency [homosexual attraction] should not be accepted into the ministry or consecrated life. The ministry or the consecrated life is not his place."
He also signed off on the Congregation for the Doctrine of the Faith's 2021 condemnation of offering ecclesial blessings to homosexual unions, declaring that God "does not and cannot bless sin."
However, on January 26 Francis urged parents in his Wednesday General audience to "accompany" their children who might have "different sexual orientations" rather than to "hide in an attitude of condemnation."
Last month, the Pope wrote a letter to a Catholic nun who openly defies Church teaching on sexuality, praising her for her "50 years of ministry," which has been mostly devoted to promoting the normalization of homosexuality within the Church.
Relying on Divine Revelation, the Church has taught from its inception that homosexual acts are contrary to the nature of sexual relations, and that all men and women are called to chastity.
The Catechism of the Catholic Church (CCC 2357) notes: "Basing itself on Sacred Scripture, which presents homosexual acts as acts of grave depravity, tradition has always declared that 'homosexual acts are intrinsically disordered.' They are contrary to the natural law. They close the sexual act to the gift of life. They do not proceed from a genuine affective and sexual complementarity. Under no circumstances can they be approved."
Despite the Church's clear and principled position outlining the sexual complementarity of men and women, Hollerich explained that his reason for departing from the historic norm was that "the sociological-scientific foundation of this teaching is no longer correct."
"[W]hat one formerly condemned was sodomy," he said, adding that in earlier eras of history, it was presumed that "in the sperm of the man, the whole child was kept. And one has simply transferred this to homosexual men."