L'INEVITABILE CONSEGUENZA/THE UNAVOIDABLE CONSEQUENCE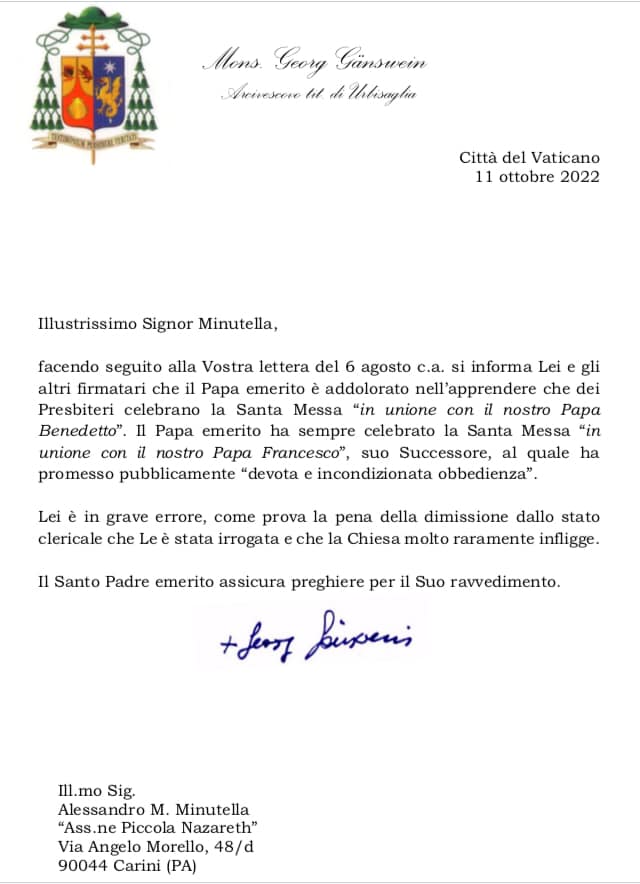 Il fatto e' che Mons. Gaenswein si e' gia in precedenza espresso chiaramente come pro-Bergoglio. Vedasi al riguardo l'articolo dal Blog BenedettoXVI-e-G Ganswein, che adesso appare incredibilmente bloccato (*) ma che e' citato parola per parola in
The fact is that Msgr. Gaenswein has already expressed himself clearly before as pro-Bergoglio. See in this regard the article from the Blog BenedettoXVI-e-G Ganswein, which now appears incredibly blocked (*) but which is quoted word for word in
Dove si afferma testualmente:
"Che sia chiaro una volta per tutte :
PAPA BENEDETTO È PONTEFICE EMERITO, PAPA FRANCESCO SOMMO PONTEFICE!!!
PAPA Benedetto XVI officia le Sante Messe in Comunione con Papa Francesco!
Chi dice il contrario è in malafede !
Chi da del bugiardo a Papa Benedetto XVI , o a Padre Georg , ne renderà conto a Dio !!!"
Where it is stated verbatim:
"Let it be clear once and for all: POPE BENEDICT IS PONTIFF EMERITUS, POPE FRANCIS THE HIGHEST PONTIFF !!! POPE Benedict XVI officiates Holy Masses in Communion with Pope Francis! Anyone who says otherwise is in bad faith! Whoever calls Pope Benedict XVI or Father Georg a liar will account for it to God !!! " (GOOGLE TRANSLATION)
Comunque attendiamo la relativa conferma/smentita che penso puntualmente arrivera' (specialmente sia un falso!).
However we await the relative confirmation / denial that I think will arrive on time (especially if it were a fake!).
NUOVI SVILUPPI (10 NOVEMBRE)
E' avvenuta, fortunatamente per lui, la smentita e' stata data da parte di Mons. Georg Gaenswein, nel senso che la lettera e' (ora anche ufficialmente) falsa! Vedasi:
Naturalmente sarebbe ozioso chiedersi, a questo punto, chi ne siano gli autori (e cui prodest?). Quanto a Mons. Gaenswein, dovrebbe a rigor di logica smentire anche l'articolo del 26 febbraio scorso pubblicato qui:
NEW DEVELOPMENTS (10 NOVEMBER)
Fortunately for him, Bishop Georg Gaenswein's denial has been published, in the sense that the letter is (now also officially) false! See:
Of course it would be idle to ask, at this point, who are the authors (and cui prodest?). As far an Mons. Gaesnwein, he should, logically, also deny authorship of the article published on February 26 and reported here: #BENEDETTOXVIBLOGWORDPRESS, JOSEPH RATZINGER: THE EUCHARIST, VATICAN COUNCIL II AND THE ATTACKS ON THE POPE…, February 26, 2022,
________________________________
(*) su intervento di FB, probabilmente via "servizi vaticani". Upon intervention by FB, likely via "Vatican services".