Dixit autem ad mulíerem: Fides tua te salvam fecit: vade in pace. But He said to the woman, Your faith has saved you, go in peace.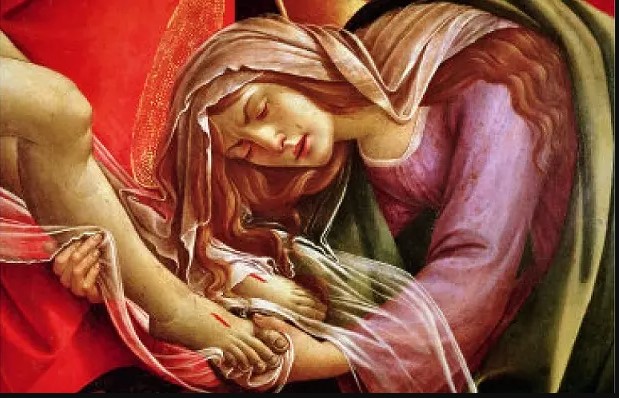 ORARI S.MESSA/TIMETABLE HOLY MASS DI VENERDI 23 SETTEMBRE 2022 ORE 18.00 (S. Messa S. Pio da Pietrelcina):
Feria Sexta Quattuor Temporum Septembris ~ II. classis
Commemoratio: S. Lini Papæ et Martyris
e qui:
LITURGIA IN LATINO\ENGLISH:
EVANGELIUM E OMELIA\HOMILY:
Luc 7:36-50
In illo témpore: Rogábat Iesum quidam de pharisǽis, ut manducáret cum illo. Et ingréssus domum pharisǽi, discúbuit. Et ecce, múlier, quæ erit in civitáte peccátrix, ut cognóvit, quod accubuísset in domo pharisǽi, áttulit alabástrum unguénti: et stans retro secus pedes eius, lácrimis cœpit rigáre pedes eius, et capíllis cápitis sui tergébat, et osculabátur pedes eius et unguénto ungébat. Videns autem pharisǽus, qui vocáverat eum, ait intra se, dicens: Hic si esset Prophéta, sciret utique, quæ et qualis est múlier, quæ tangit eum: quia peccátrix est. Et respóndens Iesus, dixit ad illum: Simon, habeo tibi áliquid dícere. At ille ait: Magíster, dic. Duo debitóres erant cuidam fæneratóri: unus debébat denários quingéntos, et álius quinquagínta. Non habéntibus illis, unde rédderent, donávit utrisque. Quis ergo eum plus díligit? Respóndens Simon, dixit: Æstimo quia is, cui plus donávit. At ille dixit ei: Recte iudicásti. Et convérsus ad mulíerem, dixit Simóni: Vides hanc mulíerem? Intrávi in domum tuam, aquam pédibus meis non dedísti: hæc autem lácrimis rigávit pedes meos et capíllis suis tersit. Oscuum mihi non dedísti: hæc autem, ex quo intrávit, non cessávit osculári pedes meos. Oleo caput meum non unxísti: hæc autem unguénto unxit pedes meos. Propter quod dico tibi: Remittúntur ei peccáta multa, quóniam diléxit multum. Cui autem minus dimíttitur, minus díligit. Dixit autem ad illam: Remittúntur tibi peccáta. Et cœpérunt, qui simul accumbébant, dícere intra se: Quis est hic, qui étiam peccáta dimíttit? Dixit autem ad mulíerem: Fides tua te salvam fecit: vade in pace.
Gospel
Luke 7:36-50
At that time, one of the Pharisees asked Jesus to dine with him; so He went into the house of the Pharisee and reclined at table. And behold, a woman in the town who was a sinner, upon learning that He was at table in the Pharisee's house, brought an alabaster jar of ointment; and standing behind Him at His feet, she began to bathe His feet with her tears, and wiped them with the hair of her head, and kissed His feet, and anointed them with ointment. Now when the Pharisee, who had invited Him, saw it, he said to himself, This Man, were He a prophet, would surely know who and what manner of woman this is who is touching Him, for she is a sinner. And Jesus answered and said to him, Simon, I have something to say to you. And he said, Master, speak. A certain money-lender had two debtors; the one owed five hundred denarii, the other fifty. As they had no means of paying, he forgave them both. Which of them, therefore, will love him more? Simon answered and said, He, I suppose, to whom he forgave more. And He said to him, You have judged rightly. And turning to the woman, He said to Simon, Do you see this woman? I came into your house; you gave Me no water for My feet; but she has bathed My feet with tears, and has wiped them with her hair. You gave Me no kiss; but she, from the moment she entered, has not ceased to kiss My feet. You did not anoint My head with oil; but she has anointed My feet with ointment. Wherefore I say to you, her sins, many as they are, shall be forgiven her, because she has loved much. But he to whom little is forgiven, loves little. And they who were at table with Him began to say within themselves, Who is this Man, Who even forgives sins? But He said to the woman, Your faith has saved you, go in peace.
DALL'OMELIA DI (FROM THE HOMILY BY) DON ENRICO RONCAGLIA – VENERDI 23 SETTEMBRE 2022 ORE 18.00: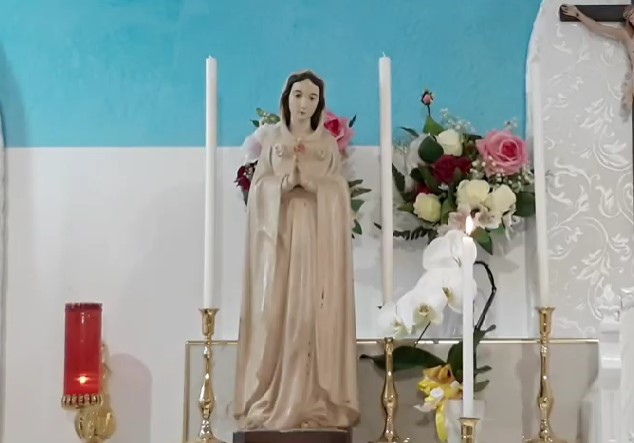 DALL'OMELIA DI DON ENRICO RONCAGLIA (**,1)
Oggi celebriamo la festa di San Pio da Petralcina (25 maggio 1887, 23 settembre 1968). Il suo nome non e' incluso nel Vetus Ordo (terminato nel 1962). Padre Pio e' un grande santo, ritenuto tale gia' in vita.
Si tratta di un confessore (in quanto non martire) e non vescovo. E stato un santo con tanti carismi particolari, tra cui le stimmate portate da lui per 50 anni. Ha vissuto continuamente la croce di Cristo!
Ha rinnovato il sacerdozio e valorizzato molto i riti della S.Messa e della confessione. Si tratta infatti dei sacramenti fondamentali per la salvezza!
Sia lodato Gesu' Cristo! Sempre sia lodato!
____________________
(*) Questo commento e' scritto in tempo reale durante l'omelia. Mi scuso per l'eventuale misinterpretazione delle parole di Don Enrico.
(1) La Cappella dei Sacri Cuori e' d'ora in avanti sotto la protezione della Madonna Pellegrina di Montichiari (Brescia, 1946).
FROM THE HOMILY BY DON ENRICO RONCAGLIA (**,1)
Today we celebrate the feast of San Pio da Petralcina. His name is not included in the Vetus Ordo (completed in 1962). Padre Pio is a great saint, already considered such in his life.
He was a confessor (as not a martyr) and not a bishop.
And he was a saint with many particular charisms, including the stigmata carried by him for 50 years.
He lived the cross of Christ continuously! He renewed the priesthood and greatly enhanced the rites of Holy Mass and confession.
In fact, it is a question of the fundamental sacraments for salvation!
Praised be Jesus Christ! Always be praised!
____________________
(*) This comment is written in real time during the homily. I apologize for any misinterpretation of Don Enrico's words.
(1) The Chapel of the Sacred Hearts is from now on under the protection of the Pilgrim Madonna of Montichiari (Brescia, 1946).