Quǽrite ergo primum regnum Dei et iustítiam eius: et hæc ómnia adiiciéntur vobis.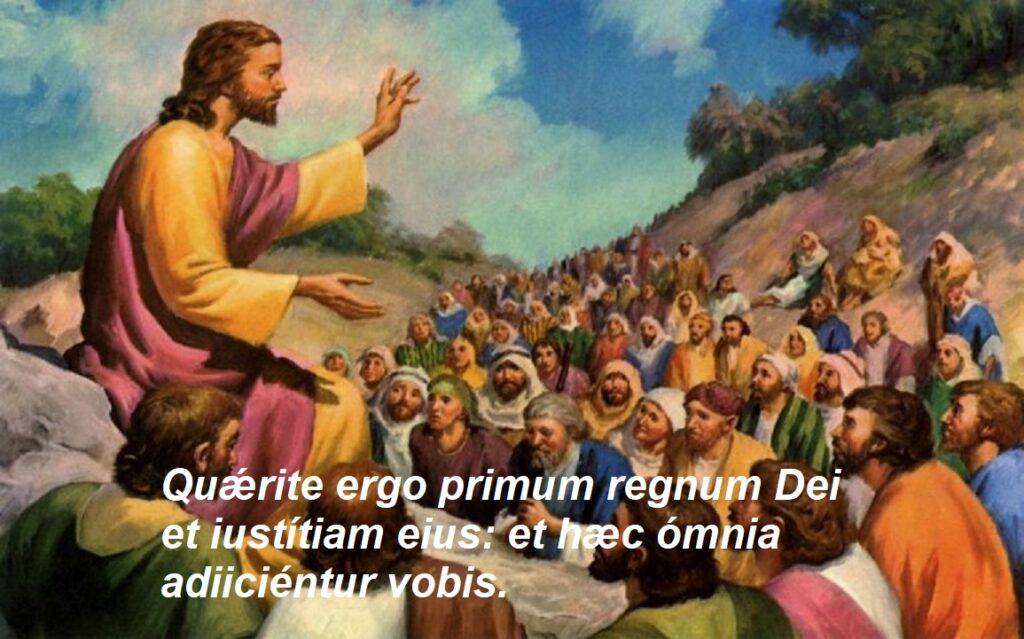 But seek first the Kingdom of God and His justice, and all these things shall be given you besides.
ORARI S.MESSA DI MARTEDI 13 SETTEMBRE 2022 ORE 18.00 (S. Messa Votiva in difesa della Chiesa, 1575): Feria Tertia infra Hebdomadam XIV post Octavam Pentecostes II. Septembris ~ IV. classis
e qui:
LITURGIA IN LATINO\ENGLISH:
EVANGELIUM E OMELIA\HOMILY:
Matt 6:24-33
In illo témpore: Dixit Iesus discípulis suis: Nemo potest duóbus dóminis servíre: aut enim unum ódio habébit, et álterum díliget: aut unum sustinébit, et álterum contémnet. Non potéstis Deo servíre et mammónæ. Ideo dico vobis, ne sollíciti sitis ánimæ vestræ, quid manducétis, neque córpori vestro, quid induámini. Nonne ánima plus est quam esca: et corpus plus quam vestiméntum? Respícite volatília cœli, quóniam non serunt neque metunt neque cóngregant in hórrea: et Pater vester cœléstis pascit illa. Nonne vos magis pluris estis illis? Quis autem vestrum cógitans potest adiícere ad statúram suam cúbitum unum? Et de vestiménto quid sollíciti estis? Consideráte lília agri, quómodo crescunt: non labórant neque nent. Dico autem vobis, quóniam nec Sálomon in omni glória sua coopértus est sicut unum ex istis. Si autem fænum agri, quod hódie est et cras in clíbanum míttitur, Deus sic vestit: quanto magis vos módicæ fídei? Nolíte ergo sollíciti esse, dicéntes: Quid manducábimus aut quid bibémus aut quo operiémur? Hæc enim ómnia gentes inquírunt. Scit enim Pater vester, quia his ómnibus indigétis. Quǽrite ergo primum regnum Dei et iustítiam eius: et hæc ómnia adiiciéntur vobis.
Gospel
Matt 6:24-33
At that time, Jesus said to His disciples: No man serve two masters; for either he will hate the one and love the other, or else he will stand by the one and despise the other. You cannot serve God and mammon. Therefore I say to you, do not be anxious for your life, what you shall eat; nor yet for your body, what you shall put on. Is not the life a greater thing than the food, and the body than the clothing? Look at the birds of the air: they do not sow, or reap, or gather into barns; yet your heavenly Father feeds them. Are not you of much more value than they? But which of you by being anxious about it can add to his stature a single cubit? And as for clothing, why are you anxious? Consider how the lilies of the field grow; they neither toil nor spin, yet I say to you that not even Solomon in all his glory was arrayed like one of those. But if God so clothes the grass of the field, which flourishes today but tomorrow is thrown into the oven, how much more you, O you of little faith! Therefore do not be anxious, saying, 'What shall we eat?' or, 'What shall we drink?' or, 'What are we to put on?' – for after all these things the Gentiles seek; – for your Father knows that you need all these things. But seek first the Kingdom of God and His justice, and all these things shall be given you besides.
DALL'OMELIA DI (FROM THE HOMILY BY) DON ENRICO RONCAGLIA – MARTEDI 13 SETTEMBRE 2022 ORE 18.00: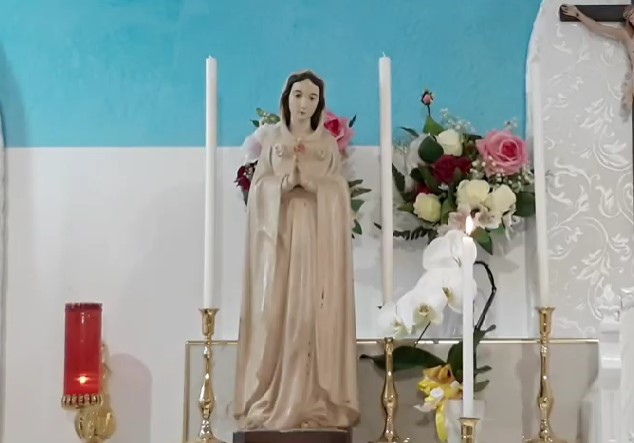 DALL'OMELIA DI DON ENRICO RONCAGLIA
Luca 11,5-13
In quel tempo, Gesù disse ai discepoli:
«Se uno di voi ha un amico e a mezzanotte va da lui a dirgli: "Amico, prestami tre pani, perché è giunto da me un amico da un viaggio e non ho nulla da offrirgli"; e se quello dall'interno gli risponde: "Non m'importunare, la porta è già chiusa, io e i miei bambini siamo a letto, non posso alzarmi per darti i pani", vi dico che, anche se non si alzerà a darglieli perché è suo amico, almeno per la sua invadenza si alzerà a dargliene quanti gliene occorrono.
Ebbene, io vi dico: chiedete e vi sarà dato, cercate e troverete, bussate e vi sarà aperto. Perché chiunque chiede riceve e chi cerca trova e a chi bussa sarà aperto.
Quale padre tra voi, se il figlio gli chiede un pesce, gli darà una serpe al posto del pesce? O se gli chiede un uovo, gli darà uno scorpione? Se voi dunque, che siete cattivi, sapete dare cose buone ai vostri figli, quanto più il Padre vostro del cielo darà lo Spirito Santo a quelli che glielo chiedono!».
Oggi celebriamo la messa votiva per la difesa della Chiesa. Abbiamo nemici molto forti. In questi ultimi decenni io nemici si sono infiltrati nella Chiesa stessa: sono la maggioranza delle persone che hanno ruoli dirigenziali.
Gia' nel 1840 la BVM alla Saleytte aveva preannunciato l'apostasia che comincia dal vertice. Ci sono due chiese: una nell'apostasia e l'altra unita a Benedetto XVI che resta fedele a Gesu' Cristo.
Il nemico vuole sterminare la vera Chiesa.
Occorre pregare Dio! Dio concedera a noi, suoi figli fedeli, la protezione dal male!
Il Signore ascolta! Ma occorre che tanti di noi preghino intensamente e continuamente per ottenere il dono dello Spirito Santo!
Il Signore trionfera' assieme al suo Vicario Terreno e a tutti noi rimastigli fedeli!
Perseveriamo nella preghiera!
Sia lodato Gesu' Cristo! Sempre sia lodato!
____________________
(*) Questo commento e' scritto in tempo reale durante l'omelia. Mi scuso per l'eventuale misinterpretazione delle parole di Don Enrico.
(1) La Cappella dei Sacri Cuori e' d'ora in avanti sotto la protezione della Madonna Pellegrina di Montichiari (Brescia, 1946).
FROM THE HOMILY BY DON ENRICO RONCAGLIA (**,1) 
Luke 11: 5-13 At that time, Jesus told his disciples: «If one of you has a friend and at midnight he goes to him and says: 'Friend, lend me three loaves, because a friend has come to me from a journey and I have nothing to offer him'; and if the one from the inside replies: "Don't bother me, the door is already closed, my children and I are in bed, I can't get up to give you the loaves", I tell you that, even if he won't get up to give them to him because he is his friend, at least for his intrusiveness he will get up to give him as much as he needs. Well, I tell you: ask and it will be given to you, seek and you will find, knock and it will be opened to you. Because whoever asks receives and whoever seeks finds and to whoever knocks it will be opened. Which father among you, if his son asks him for a fish, will give him a snake instead of a fish? Or if he asks for an egg, will he give him a scorpion? If you then, who are evil, know how to give good things to your children, how much more will your Heavenly Father give the Holy Spirit to those who ask him! ».
Today we celebrate the votive mass for the defense of the Church.
We have very strong enemies. In recent decades I enemies have infiltrated the Church itself: they are the majority of people who have leadership roles.
Already in 1840 the BVM at Saleytte had heralded the apostasy which begins from the top.
There are two churches: one in apostasy and the other united with Benedict XVI who remains faithful to Jesus Christ.
The enemy wants to exterminate the true Church.
It is necessary to pray to God!
God will grant us, his faithful children, protection from evil!
The Lord listens! But so many of us need to pray intensely and continuously to obtain the gift of the Holy Spirit!
The Lord will triumph together with his Vicar on Earth and with all of us remaining faithful to him!
Let's persevere in prayer!
Praised be Jesus Christ! Always be praised!
____________________
(*) This comment is written in real time during the homily. I apologize for any misinterpretation of Don Enrico's words.
(1) The Chapel of the Sacred Hearts is from now on under the protection of the Pilgrim Madonna of Montichiari (Brescia, 1946).