De sacra genealogia Iesu Christi – The sacred genealogy of Jesus Christ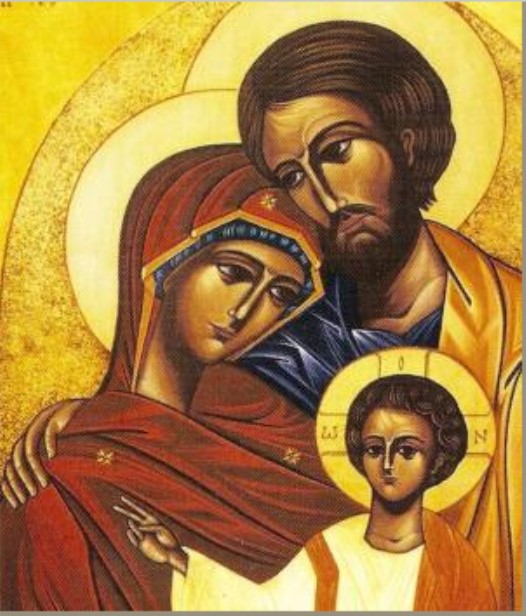 ORARI S.MESSA DI GIOVEDI 8 SETTEMBRE 2022, NATIVITA' DI MARIA:
Nativitate Beatæ Mariæ Virginis ~ II. classis
Tempora: Feria Quinta infra Hebdomadam XIII post Octavam Pentecostes I. Septembris
e qui:

LITURGIA IN LATINO\ENGLISH:

EVANGELIUM E OMELIA\HOMILY:
Matt 1:1-16
Liber generatiónis Iesu Christi, fílii David, fílii Abraham. Abraham génuit Isaac. Isaac autem génuit Iacob. Iacob autem génuit Iudam et fratres eius. Iudas autem génuit Phares et Zaram de Thamar. Phares autem génuit Esron. Esron autem génuit Aram. Aram autem génuit Amínadab. Amínadab autem génuit Naásson. Naásson autem génuit Salmon. Salmon autem génuit Booz de Rahab. Booz autem génuit Obed ex Ruth. Obed autem génuit Iesse. Iesse autem génuit David regem. David autem rex génuit Salomónem ex ea, quæ fuit Uriæ. Sálomon autem génuit Róboam. Róboam autem génuit Abíam. Abías autem génuit Asa. Asa autem génuit Iósaphat. Iósaphat autem génuit Ioram. Ioram autem génuit Ozíam. Ozías autem génuit Ióatham. Ióatham autem génuit Achaz. Achaz autem génuit Ezechíam. Ezechías autem génuit Manássen. Manásses autem génuit Amon. Amon autem génuit Iosíam. Iosías autem génuit Iechoníam et fratres eius in transmigratióne Babylónis. Et post transmigratiónem Babylónis: Iechonías génuit Saláthiel. Saláthiel autem génuit Zoróbabel. Zoróbabel autem génuit Abiud. Abiud autem génuit Elíacim. Elíacim autem génuit Azor. Azor autem génuit Sadoc. Sadoc autem génuit Achim. Achim autem génuit Eliud. Eliud autem génuit Eleázar. Eleázar autem génuit Mathan. Mathan autem génuit Iacob. Iacob autem génuit Ioseph, virum Maríæ, de qua natus est Iesus, qui vocátur Christus.
Gospel
Matt 1:1-16
The book of the origins of Jesus Christ, the Son of David, the son of Abraham. Abraham begot Isaac, Isaac begot Jacob, Jacob begot Judas and his brethren. Judas begot Phares and Zara of Thamar, Phares begot Esron, Esron begot Aram. And Aram begot Aminadab, Aminadab begot Naasson, Naasson begot Salmon. Salmon begot Booz of Rahab. Booz begot Obed of Ruth, Obed begot Jesse, Jesse begot David the king. And David the king begot Solomon of the former wife of Urias. Solomon begot Roboam, Roboam begot Abia, Abia begot Asa. And Asa begot Josaphat, Josaphat begot Joram, Joram begot Ozias. And Ozias begot Joatham, Joatham begot Achaz, Achaz begot Ezechias. And Ezechias begot Manasses, Manasses begot Amon, Amon begot Josias. And Josias begot Jechonias and his brethren at the time of the carrying away to Babylon. And after the carrying away to Babylon Jechonias begot Salathiel, Salathiel begot Zorobabel. And Zorobabel begot Abiud, Abiud begot Eliachim, Eliachim begot Azor. And Azor begot Sadoc, Sadoc begot Achim, Achim, begot Eliud. And Eliud begot Eleazar, Eleazar begot Matthan, Matthan begot Jacob. And Jacob begot Joseph, the husband of Mary, and of her was born Jesus Who is called Christ.
DALL'OMELIA DI (FROM THE HOMILY BY) DON ENRICO RONCAGLIA – GIOVEDI 8 SETTEMBRE 2022, ORE 18.00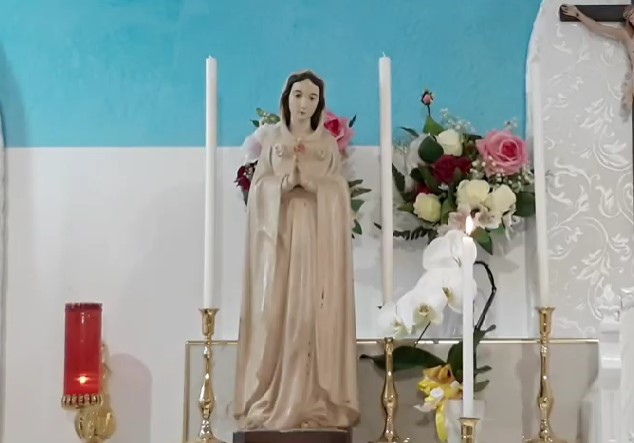 DALL'OMELIA DI DON ENRICO RONCAGLIA
Prov 8:22-35
Il Signore mi possedette dal principio delle sue azioni, prima delle sue opere, fin d'allora. Fui stabilita dall'eternità e fin dalle origini, prima che fosse fatta la terra. Non erano ancora gli abissi e io ero già concepita: non scaturivano ancora le fonti delle acque: i monti non posavano ancora nella loro grave mole; io ero generata prima che le colline: non era ancora fatta la terra, né i fiumi, né i càrdini del mondo.
Matth 1:1-16
Libro della generazione di Gesú Cristo, figlio di Davide, figlio di Abramo. Giacobbe generò Giuseppe, sposo di Maria, da cui nacque Gesù chiamato il Cristo.
Oggi e'la festa della Nativita' di Maria Santissima. Figlia di Gioacchino e Anna e considerata da subito benedetta da Dio. Quando avena solo tre anni venne dedicata a Dio dai Genitori in segno di ringraziamento. Tutti in Israele aspettavano l'avvento del Messia! Ma non potevano sapere la via seguita da Dio!
Importante e' essere come Gioacchino ed Anne, ovvero restare in fiduciosa attesa del Signore, preparando la sua venuta! Bastano, infatti, persone semplici che lascino operare in loro il Signore!
Si tratta dell'Aurora che si accende nell'anima: questa luce e' Maria che ci permette di uscire dalle tenebre alla luce! Tutti i fedeli che assistono a questa celebrazione sono nell'attesa di questa luce!
Tutti possono trovare rifugio nella Madre Celeste!
Sia lodato Gesu' Cristo! Sempre sia lodato!
____________________
(*) Questo commento e' scritto in tempo reale durante l'omelia. Mi scuso per l'eventuale misinterpretazione delle parole di Don Enrico.
(1) La Cappella dei Sacri Cuori e' d'ora in avanti sotto la protezione della Madonna Pellegrina di Montichiari (Brescia, 1946).
FROM THE HOMILY BY DON ENRICO RONCAGLIA (**,1)
Prov 8: 22-35 The Lord possessed me from the beginning of his actions, before his works, ever since. I was established from eternity and from the very beginning, before the earth was made. The abyss were not yet and I was already conceived: the sources of the waters did not yet spring up: the mountains were not yet resting in their heavy bulk; I was generated before the hills: the earth was not yet made, nor the rivers, nor the càrdini of the world.
Matth 1: 1-16 Book of the generation of Jesus Christ, son of David, son of Abraham. Jacob fathered Joseph, husband of Mary, from whom was born Jesus called the Christ.
Today is the feast of the Nativity of the Blessed Virgin Mary. Daughter of Joachim and Anna and immediately considered blessed by God.
When she was only three years old she was dedicated to God by her parents as a sign of thanks. Everyone in Israel was waiting for the Messiah to come! But they couldn't know the way God followed! It is important to be like Joachim and Anne, or to remain in confident expectation of the Lord, preparing his coming!
In fact, simple people who let the Lord work in them are enough!
It is the Aurora that lights up in the soul: this light is Mary who allows us to come out of darkness into light!
All the faithful who attend this celebration are waiting for this light!
Everyone can find refuge in the Heavenly Mother!
Praised be Jesus Christ! Always be praised!
____________________
(*) This comment is written in real time during the homily. I apologize for any misinterpretation of Don Enrico's words.
(1) The Chapel of the Sacred Hearts is from now on under the protection of the Pilgrim Madonna of Montichiari (Brescia, 1946).