DALL'OMELIA DI (FROM THE HOMILY BY) DON ENRICO RONCAGLIA – LUNEDI 22 AGOSTO 2022, ORE 18.00: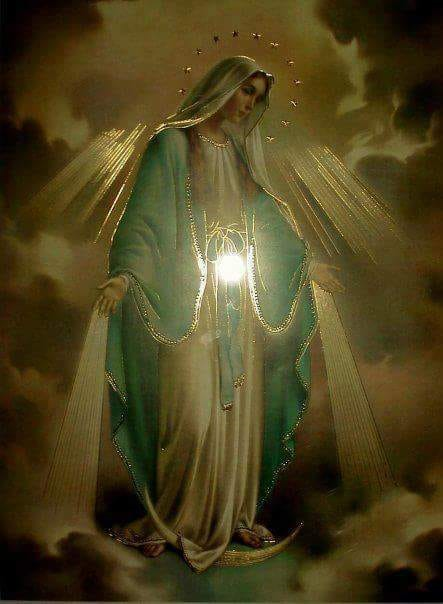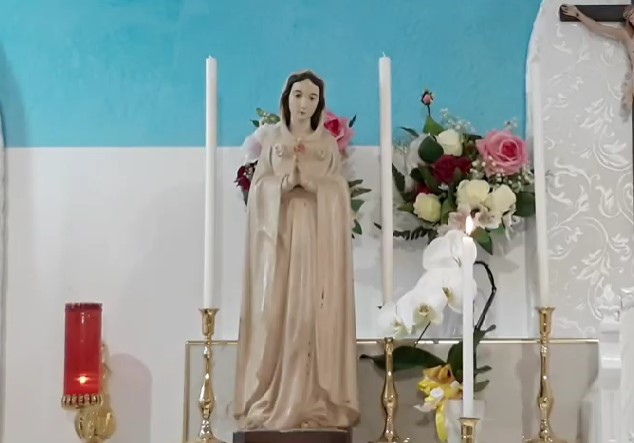 DALL'OMELIA DI DON ENRICO RONCAGLIA (*,1)
Eccli 24:23-31
Come una vite, io produssi pàmpini di odore soave, e i miei fiori diedero frutti di gloria e di ricchezza. Io sono la madre del bell'amore, del timore, della conoscenza e della santa speranza. In me si trova ogni grazia di dottrina e di verità, in me ogni speranza di vita e di virtù. Venite a me, voi tutti che mi desiderate, e dei miei frutti saziatevi. Poiché il mio spirito è più dolce del miele, e la mia eredità più dolce di un favo di miele. Il mio ricordo rimarrà per volger di secoli.
Joann 19:25-27
In quel tempo, stavano presso la croce di Gesù sua madre, la sorella di sua madre, Maria di Clèofa, e Maria Maddalena. Gesù, dunque, vedendo la madre e accanto a lei il discepolo che amava, disse a sua madre: «Donna, ecco tuo figlio». Poi disse al discepolo: «Ecco tua madre». E da quell'ora il discepolo la prese con sé.
Siamo giunti alla festa del Cuore Immacolato di Maria. Il Cuore Immacolato e' stato donato al mondo per questi tempi molto rischiosi per le anime. Affinche' noi ci rifugiamo in esso.
Dove nasce questa devozione. Ha origini nel Vangelo stesso. Luca spesso afferma che "Maria meditava nel suo cuore" e nel brano odierno di Giovanni.
Mentre il cuore di nostro Signore veniva trafitto anche il cuore di Maria veniva colpito per accogliere tutte le persone che credono in Gesu'.
Giovanni ricevendo in casa Maria si consacra a lei! Maria diventa sua e nostra madre, Lei la Corredentrice!
Questa consacrazione e' stata diffusa nel medioevo ma e' venuta alla luce con San Giovanni Eudes.
Sia lodato Gesu' Cristo! Sempre sia lodato!
____________________
(*) Questo commento e' scritto in tempo reale durante l'omelia. Mi scuso per l'eventuale misinterpretazione delle parole di Don Enrico.
(1) La Cappella dei Sacri Cuori e' d'ora in avanti sotto la protezione della Madonna Pellegrina di Montichiari (Brescia, 1946).
FROM THE HOMILY BY DON ENRICO RONCAGLIA (**,1)
Eccli 24: 23-31 Like a vine, I produced sweet smelling pams, and my flowers gave fruits of glory and wealth. I am the mother of beautiful love, fear, knowledge and holy hope. In me is found every grace of doctrine and truth, in me every hope of life and virtue. Come to me, all you who desire me, and be satisfied with my fruits. For my spirit is sweeter than honey, and my inheritance sweeter than a honeycomb. My memory will remain for centuries.
Joann 19: 25-27 At that time, his mother, his mother's sister, Mary of Cleophas, and Mary Magdalene stood at the cross of Jesus. Jesus, therefore, seeing his mother and next to her the disciple whom he loved, said to his mother: "Woman, here is your son." Then he said to the disciple: "Here is your mother." And from that hour the disciple took her with him.
We have come to the feast of the Immaculate Heart of Mary. The Immaculate Heart was given to the world for these very risky times for souls.
So that we take refuge in it. Where does this devotion originate. It has its origins in the Gospel itself. Luke often states that "Mary meditated in her heart" and in today's passage from John.
While our Lord's heart was pierced, Mary's heart was also struck to welcome all the people who believe in Jesus.
John receiving Mary at home consecrates himself to her!
Mary becomes his and our mother, she the Coredemptrix!
This consecration was widespread in the Middle Ages but it came to light with St. John Eudes.
Praised be Jesus Christ! Always be praised!
____________________
(*) This comment is written in real time during the homily. I apologize for any misinterpretation of Don Enrico's words.
(1) The Chapel of the Sacred Hearts is from now on under the protection of the Pilgrim Madonna of Montichiari (Brescia, 1946).