Et ingréssus in templum, cœpit eiícere vendéntes in illo et eméntes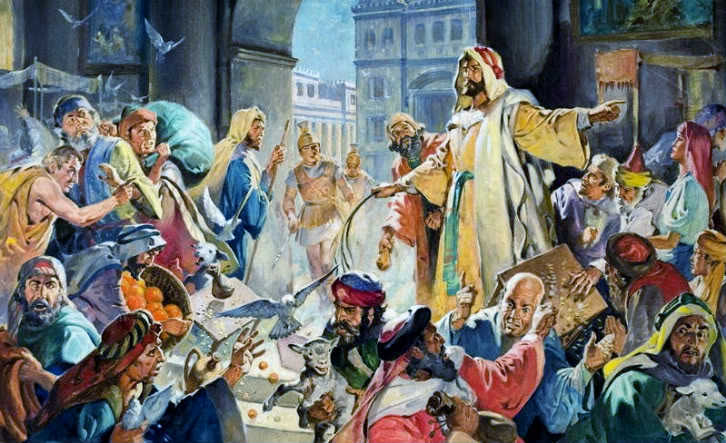 And He entered the temple, and began to cast out those who were selling and buying in it
ORARI S.MESSA DI GIOVEDI 11 AGOSTO 2022, ORE 18.00: Feria quinta infra Hebdomadam IX post Octavam Pentecostes I. Augusti ~ IV. classis
Commemoratio: Ss. Tiburtii et Susannæ Virginum et Martyrum
e qui:

LITURGIA IN LATINO\ENGLISH:

EVANGELIUM E OMELIA\HOMILY:
Luc 19:41-47
In illo témpore: Cum appropinquáret Iesus Ierúsalem, videns civitátem, flevit super illam, dicens: Quia si cognovísses et tu, et quidem in hac die tua, quæ ad pacem tibi, nunc autem abscóndita sunt ab óculis tuis. Quia vénient dies in te: et circúmdabunt te inimíci tui vallo, et circúmdabunt te: et coangustábunt te úndique: et ad terram prostérnent te, et fílios tuos, qui in te sunt, et non relínquent in te lápidem super lápidem: eo quod non cognóveris tempus visitatiónis tuæ. Et ingréssus in templum, cœpit eiícere vendéntes in illo et eméntes, dicens illis: Scriptum est: Quia domus mea domus oratiónis est. Vos autem fecístis illam speluncam latrónum. Et erat docens cotídie in templo.
Gospel
Luke 19:41-47
At that time, when Jesus drew near to Jerusalem and saw the city, He wept over it, saying, If you had known, in this your day, even you, the things that are for your peace! But now they are hidden from your eyes. For days will come upon you when your enemies will throw up a rampart about you, and surround you and shut you in on every side, and will dash you to the ground and your children within you, and will not leave in you one stone upon another, because you have not known the time of your visitation. And He entered the temple, and began to cast out those who were selling and buying in it, saying to them, It is written, 'My house is a house of prayer,' but you have made it a den of thieves. And He was teaching daily in the temple.
DALL'OMELIA DI (FROM THE HOMILY BY) DON ENRICO RONCAGLIA – ORARI S.MESSA DI GIOVEDI 11 AGOSTO 2022, ORE 18.00 (S. Messa Votiva dello Spirito Santo,1523):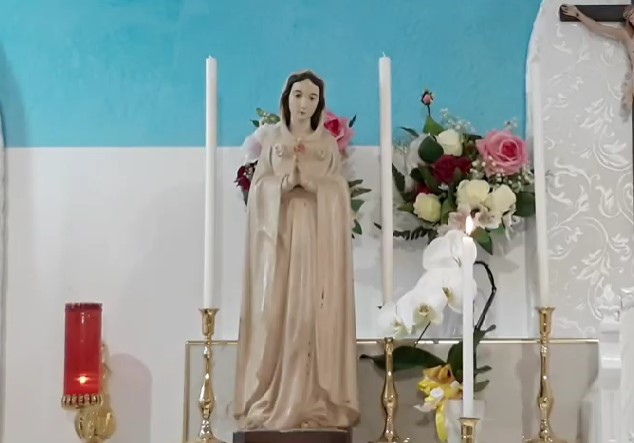 DALL'OMELIA DI DON ENRICO RONCAGLIA (*,1)
Se uno mi ama, osservera' la mia parola e il Padre mio lo amera'.
Nel Vetus Ordo oggi dedichiamo la S. Messa allo Spirito Santo. Occorre infatti invocare lo Spirito Santo! Per rispettare la promessa di Gesu' Cristo! Infatti la sua promessa e' che Lui assieme al Padre e allo Spirito Santo dimorera' in noi!
Oggi il Signore parla a noi e ci suggerisce tramite lo Spirito Santo quanto Dio ama! Il frutto della dimora di Dio in noi e' la pace interiore, èpace che il mondo non puo' conoscere!
Non siamo quindi soli! Abbiamo in noi il Padre, il Figlio e lo Spirito Santo!
Sia lodato Cristo! Sempre sia lodato!
____________________
(*) Questo commento e' scritto in tempo reale durante l'omelia. Mi scuso per l'eventuale misinterpretazione delle parole di Don Enrico.
(1) La Cappella dei Sacri Cuori e' d'ora in avanti sotto la protezione della Madonna Pellegrina di Montichiari (Brescia, 1946).
FROM THE HOMILY BY DON ENRICO RONCAGLIA (**,1)
If someone loves me, he will keep my word and my Father will love him.
In the Vetus Ordo today we dedicate the H. Mass to the Holy Spirit.
Indeed, it is necessary to invoke the Holy Spirit! To respect the promise of Jesus Christ! In fact, his promise is that he together with the Father and the Holy Spirit will dwell in us!
Today the Lord speaks to us and suggests to us through the Holy Spirit how much God loves!
The fruit of God's dwelling in us is inner peace, it is a space that the world cannot know!
We are therefore not alone!
We have the Father, the Son and the Holy Spirit in us!
Praised be Christ! Always be praised!
____________________
(*) This comment is written in real time during the homily. I apologize for any misinterpretation of Don Enrico's words.
(1) The Chapel of the Sacred Hearts is from now on under the protection of the Pilgrim Madonna of Montichiari (Brescia, 1946).