DALL'OMELIA DI (FROM THE HOMILY BY) DON ENRICO RONCAGLIA – ORARI S.MESSA DI GIOVEDI 23 GIUGNO ORE 8.00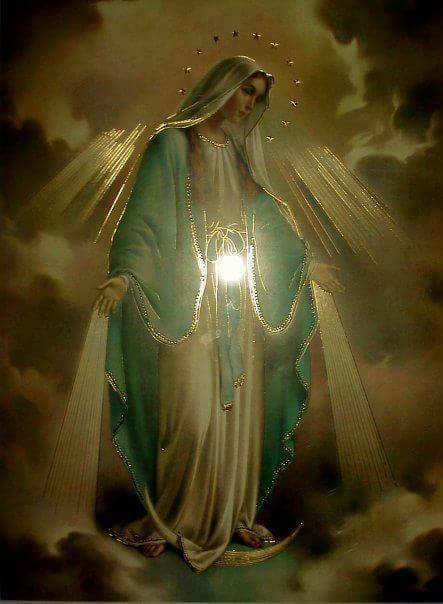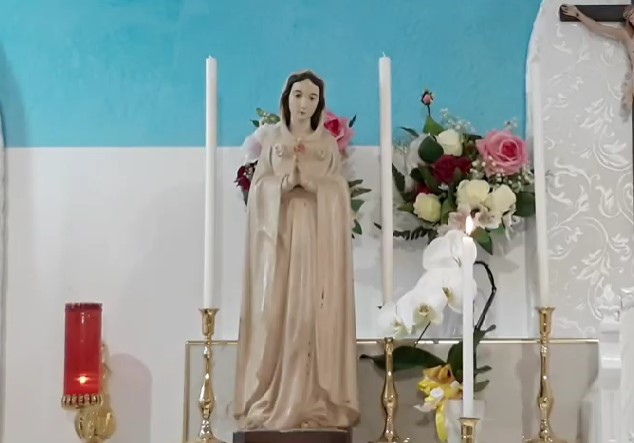 DALL'OMELIA DI DON ENRICO RONCAGLIA (*,1)
(Lettura) La notte in cui veniva tradito Gesu' spezzo' il pane e distribui il calice del suo sangue, E' l'annuncio del Signore fino a quando Egli verra'.
(Vangelo) Chi mangia la mia carne e beve il mio sangue dimora in me e vivra' in eterno.
Oggi dovrebbe essere la vigilia della festa di San Giovanni Battista. Ma prevale la festa del Sacro Cuore, nostro patrono assieme al Cuore Immacolato di Maria.
La presenza del Signore oggi e' soprattutto nella SS. Eucarestia, ora diventata pero' molto rara. Infatti dove si avvalla l'eresia non puo' esserci Gesu'.
Il Vicario di Cristo e' Benedetto XVI. Per questo celebriamo in unione con lui!
Noi siamo dunque la Chiesa assieme a Benedetto XVI!
Eravamo abituati a poter ricevere il corpo di Cristo nelle vicine chiese. Ora non e' piu' cosi'.
Dobbiamo riceverlo spiritualmente, ma agisce ugualmente con tutta la sua potenza! Noi crediamo nella presenza reale del Cristo nell'Eucarestia!
Anche se una volta non eravamo cosi' consapevoli, oggi viviamo la preparazione ai doni che Gesu' ci fara' intervenendo nella storia. Sta preparando le nostre anime!
In questo tabernacolo possiamo adorarlo e riceverlo!
Nella chiesa ufficiale si sono prostrati davanti ai poteri del mondo governato da satana! Viene proibito inginocchiarsi! Sono schiavi di satana, proprio loro che vorrebbero essere i custodi del culto eucaristico vietano l'adorazione del Cristo!
Costoro, se vogliono salvarsi, devono abbandonare subito quelle chiese dove si adora satana!
Sia lodato Gesu' Cristo! Sempre sia lodato!
____________________
(*) Questo commento e' scritto in tempo reale durante l'omelia. Mi scuso per l'eventuale misinterpretazione delle parole di Don Enrico.
(1) La Cappella dei Sacri Cuori e' d'ora in avanti sotto la protezione della Madonna Pellegrina di Montichiari (Brescia, 1946).
FROM THE HOMILY BY DON ENRICO RONCAGLIA (**,1)
t
(Reading) The night when Jesus was betrayed he broke the bread and distributed the cup of his blood, it is the announcement of the Lord until He comes.
(Gospel) Whoever eats my flesh and drinks my blood abides in me and will live forever.
Today should be the eve of the feast of St. John the Baptist. But the feast of the Sacred Heart prevails, our patron together with the Immaculate Heart of Mary.
The presence of the Lord today is above all in the SS. Eucharist, which has now become very rare. In fact, where heresy is validated, there cannot be Jesus.
The Vicar of Christ is Benedict XVI. For this we celebrate in union with him! We are therefore the Church together with Benedict XVI!
We used to be able to receive the body of Christ in nearby churches. Now it's not like that anymore. We must receive it spiritually, but it still acts with all its power!
We believe in the real presence of Christ in the Eucharist! Even if once we were not so aware, today we live the preparation for the gifts that Jesus will give us by intervening in history. He is preparing our souls! In this tabernacle we can worship and receive him!
In the official church they have bowed down to the powers of the world ruled by satan! It is forbidden to kneel!
They are slaves of Satan, they who would like to be the guardians of the Eucharistic cult forbid the adoration of Christ!
They, if they want to be saved, must immediately abandon those churches where Satan is worshiped!
Praised be Jesus Christ. Always be praised!
___________________
(**) This comment is written in real time during the homily. I apologize for any misinterpretation of Don Enrico's words
(1) The celebration Chapel of Sacred Hearts from now on is set under the protection of the Pilgrim Madonna of Montichiari (Brescia, Italy, 1946).