Eadem quippe mensúra, qua mensi fuéritis, remetiétur vobis.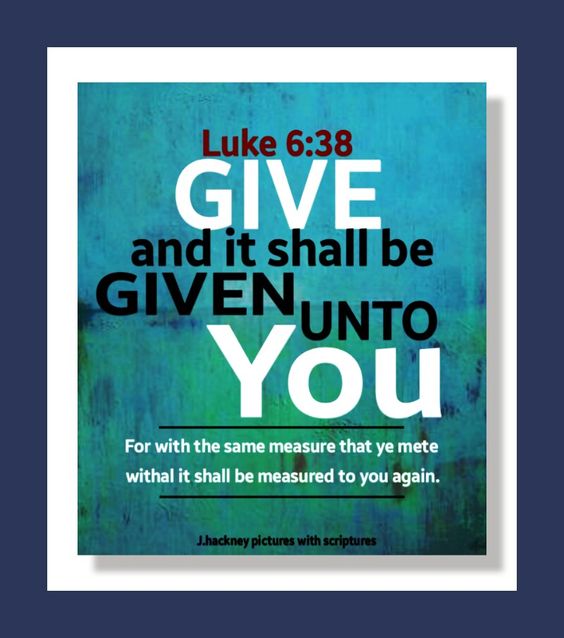 Give, and it will be given to you.
ORARI S.MESSA DI MERCOLEDI 15 GIUGNO ORE 8.00: Feria Quarta infra Hebdomadam I post Octavam Pentecostes ~ IV. classis
Commemoratio: Ss. Viti, Modesti atque Crescentiæ Martyrum
S.MESSA ONLINE DI DON ENRICO RONCAGLIA, su youtube channel:
e qui:

EVANGELIUM E OMELIA\HOMILY:
Evangelium
Luc 6:36-42
In illo témpore: Dixit Iesus discípulis suis: Estóte misericórdes, sicut et Pater vester miséricors est. Nolíte iudicáre, et non iudicabímini: nolíte condemnáre, et non condemnabímini. Dimíttite, et dimittémini. Date, et dábitur vobis: mensúram bonam et confértam et coagitátam et supereffluéntem dabunt in sinum vestrum. Eadem quippe mensúra, qua mensi fuéritis, remetiétur vobis. Dicébat autem illis et similitúdinem: Numquid potest cæcus cæcum dúcere? nonne ambo in fóveam cadunt? Non est discípulus super magistrum: perféctus autem omnis erit, si sit sicut magister eius. Quid autem vides festúcam in óculo fratris tui, trabem autem, quæ in óculo tuo est, non consíderas? Aut quómodo potes dícere fratri tuo: Frater, sine, eiíciam festúcam de óculo tuo: ipse in oculo tuo trabem non videns? Hypócrita, eiice primum trabem de oculo tuo: et tunc perspícies, ut edúcas festúcam de óculo fratris tui.

Gospel
Luke 6:36-42
In that time Jesus said to his disciples: Be ye therefore merciful, as your Father also is merciful. Judge not, and you shall not be judged. Condemn not, and you shall not be condemned. Forgive, and you shall be forgiven. Give, and it shall be given to you: good measure and pressed down and shaken together and running over shall they give into your bosom. For with the same measure that you shall mete withal, it shall be measured to you again. And he spoke also to them a similitude: Can the blind lead the blind? do they not both fall into the ditch? The disciple is not above his master: but every one shall be perfect, if he be as his master. And why seest thou the mote in thy brother's eye: but the beam that is in thy own eye thou considerest not? Or how canst thou say to thy brother: Brother, let me pull the mote out of thy eye, when thou thyself seest not the beam in thy own eye? Hypocrite, cast first the beam out of thy own eye; and then shalt thou see clearly to take out the mote from thy brother's eye.
DALL'OMELIA DI (FROM THE HOMILY BY) DON ENRICO RONCAGLIA – ORARI S.MESSA DI MERCOLEDI 15 GIUGNO ORE 8.00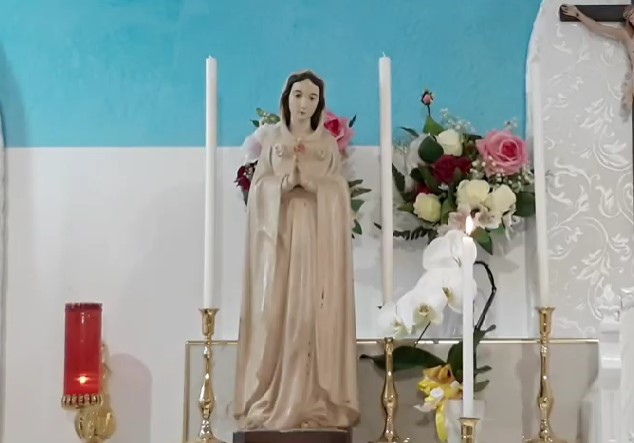 DALL'OMELIA DI DON ENRICO RONCAGLIA (*,1)
Oggi ricordiamo San Giuseppe in questa messa votiva. Per affidargli la Chiesa in questo tempo di pericolo.
Cerchiamo in lui anche l'esempio da seguire e imitare. Lui e' il padre di Gesu', di cui vive in perenne stato di adorazione.
Anche noi siamo stati eletti da Dio con doni spirituali. Anche noi possiamo custodire la presenza di Gesu' e Maria. In continuo stato di adorazione a Gesu' e venerazione a Maria.
Giuseppe, falegname, era impegnato nei lavori materiali. Ma ha saputo conservare i valori spirituali.
Per questo San Giuseppe e' il nostro modello e protettore!
Sia lodato Gesu' Cristo! Sempre sia lodato!
____________________
(*) Questo commento e' scritto in tempo reale durante l'omelia. Mi scuso per l'eventuale misinterpretazione delle parole di Don Enrico.
(1) La Cappella dei Sacri Cuori e' d'ora in avanti sotto la protezione della Madonna Pellegrina di Montichiari (Brescia, 1946).
FROM THE HOMILY BY DON ENRICO RONCAGLIA (**,1)
Today we remember St. Joseph in this votive mass.
To entrust the Church to him in this time of danger. Let us also seek in him the example to follow and imitate.
He is the father of Jesus, of whom he lives in a perennial state of adoration. We too have been elected by God with spiritual gifts.
We too can guard the presence of Jesus and Mary. In a continuous state of adoration of Jesus and veneration of Mary.
Giuseppe, a carpenter, was engaged in material work.
But he knew how to preserve spiritual values.
This is why St. Joseph is our model and protector!
Praised be Jesus Christ. Always be praised!
___________________
(**) This comment is written in real time during the homily. I apologize for any misinterpretation of Don Enrico's words
(1) The celebration Chapel of Sacred Hearts from now on is set under the protection of the Pilgrim Madonna of Montichiari (Brescia, Italy, 1946).