Quia et áliis civitátibus opórtet me evangelizáre regnum Dei: quia ídeo missus sum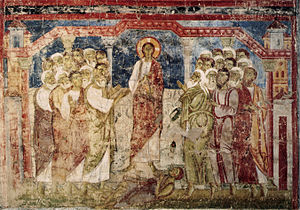 To the other towns also I must proclaim the kingdom of God, for this is why I have been sent.
ORARI S.MESSA DI OGGI GIOVEDI 24 MARZ0 2022, ORE 18.00 – Feria Quinta infra Hebdomadam III in Quadragesima ~ III. classis
Commemoratio: S. Gabrielis Archangeli
S.MESSA ONLINE DI DON ENRICO RONCAGLIA, su youtube channel:

EVANGELIUM E OMELIA\HOMILY:
Evangelium
Luca 1,28-38
28 Entrando da lei, disse: «Ti saluto, o piena di grazia, il Signore è con te». 29 A queste parole ella rimase turbata e si domandava che senso avesse un tale saluto. 30 L'angelo le disse: «Non temere, Maria, perché hai trovato grazia presso Dio. 31 Ecco concepirai un figlio, lo darai alla luce e lo chiamerai Gesù. 32 Sarà grande e chiamato Figlio dell'Altissimo; il Signore Dio gli darà il trono di Davide suo padre 33 e regnerà per sempre sulla casa di Giacobbe e il suo regno non avrà fine».
34 Allora Maria disse all'angelo: «Come è possibile? Non conosco uomo». 35 Le rispose l'angelo: «Lo Spirito Santo scenderà su di te, su te stenderà la sua ombra la potenza dell'Altissimo. Colui che nascerà sarà dunque santo e chiamato Figlio di Dio. 36 Vedi: anche Elisabetta, tua parente, nella sua vecchiaia, ha concepito un figlio e questo è il sesto mese per lei, che tutti dicevano sterile: 37 nulla è impossibile a Dio». 38 Allora Maria disse: «Eccomi, sono la serva del Signore, avvenga di me quello che hai detto». E l'angelo partì da lei.
Gospel Luke 4:38-44
At that time, Jesus rose from the synagogue and entered Simon's house. Now Simon's mother-in-law was suffering from a great fever, and they besought Him for her. And standing over her He rebuked the fever, and it left her; and she rose at once and began to wait on them. Now when the sun was setting, all who had persons sick with various diseases brought them to Him. And He laid His hands upon each of them and cured them. And devils also came forth from many, crying out and saying, You are the Son of God. And He rebuked them, and did not permit them to speak, because they knew that He was the Christ. Now when it was day, He went out and departed into a desert place. And the crowds were seeking after Him, and they came to Him, and tried to detain Him, that He might not depart from them. But He said to them, To the other towns also I must proclaim the kingdom of God, for this is why I have been sent. And He was preaching in the synagogues of Galilee.
.

DALL'OMELIA DI (FROM THE HOMILY BY) DON ENRICO RONCAGLIA – ORARI S.MESSA DI OGGI GIOVEDI 24 MARZ0 2022, ORE 18.00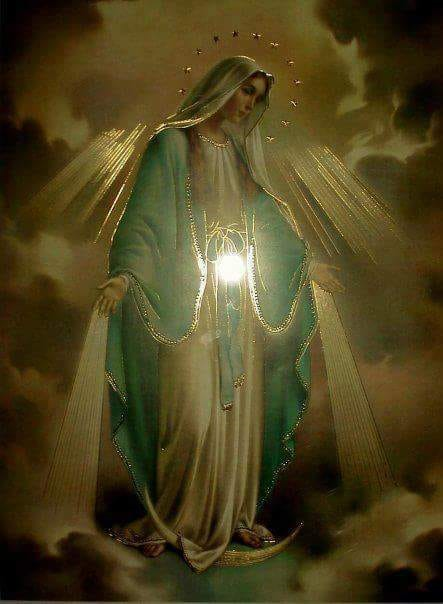 DALL'OMELIA DI DON ENRICO RONCAGLIA (*)
Luca 1,28-38
28 Entrando da lei, disse: «Ti saluto, o piena di grazia, il Signore è con te».
Abbiamo la gioia di celebrare nel Vetus Ordo la festa di San Gabriele Arcangelo,
Si rievoca nella prima lettura l'oppressione dei babilonesi sul popolo di Israele. L'arcangelo Gabriele mandato da Dio pronuncio la profezia delle settanta settimane, l'annuncio dell'arrivo del Messia.
San Luca fa notare che lo stesso arcangelo Gabriele apparve nel tempio a Zaccaria (Padre di Giovanni Battista) durante l'ora del sacirficio.
Nel Vangelo lo stesso arcangelo Gabriele porta l'annuncio alla Madonna del concepimento e della nascita di Gesu'.
Domani a Roma avverra' la falsa consacrazione della Russia. Ma fino all'altro giorno dicevano che era stata gia' fatta o che non significava alcunche! Il testo della preghiera contiene l'invocazione alla richiesta del perdono. Ma quale perdono? Forse delle blasfemie innumerevoli commesse in questi anni, delle innumerevoli offese verso la BVM?
Ma non e' piu' tempo di chiudere gli occhi! Deve nascere la nuova chiesa! Dal rifiuto della falsita' del passato! Occorre fare la volonta' di Dio, al contrario di quanto compiuto dalla falsa chiesa!
Cio' significa che verra' la punizione divina!
Ma noi facciamo opera di riparazione. Per questo scopo la messa di domattina 25 marzo avra' proprio questa finalita' e alle 17.00 ascolteremo la parola di Dio in anticipazione della celebrazione di Domenica.
Sia lodato Gesu' Cristo! Sempre sia lodato!.
__________________
(*) Questo commento e' scritto in tempo reale durante l'omelia. Mi scuso per l'eventuale misinterpretazione delle parole di Don Enrico.
FROM THE HOMILY BY DON ENRICO RONCAGLIA (**)
Luke 1: 28-38 28 Entering her, he said, "Hail, full of grace, the Lord is with you."
We have the joy of celebrating the feast of St. Gabriel the Archangel in the Vetus Ordo, The oppression of the Babylonians on the people of Israel is recalled in the first reading.
The archangel Gabriel sent by God pronounced the prophecy of the seventy weeks, the announcement of the arrival of the Messiah.
St. Luke points out that the archangel Gabriel himself appeared in the temple to Zacharias (Father of John the Baptist) during the hour of the sacrifice.
In the Gospel, the archangel Gabriel himself brings the announcement to Our Lady of the conception and birth of Jesus.
The false consecration of Russia will take place tomorrow in Rome. But until the other day they said that it had already been done or that it didn't mean anything! The text of the prayer contains the invocation to the petitioner for forgiveness.
But what forgiveness? Perhaps the innumerable blasphemies committed in recent years, the innumerable offenses against the BVM? But it's no longer time to close your eyes!
The new church must be born! From the rejection of the falsehood of the past! God's will must be done, as opposed to what the false church does! This means that divine punishment will come! But we do repair work.
For this purpose, the mass of tomorrow morning 25 March will have precisely this purpose and at 5.00 pm we will hear the word of God in anticipation of the celebration on Sunday.
Praised be Jesus Christ. Always be praised!
__________________
(*) This comment is written in real time during the homily. I apologize for any misinterpretation of Don Enrico's words.