DALL'OMELIA DI (FROM THE HOMILY BY) DON ENRICO RONCAGLIA – ORARI S.MESSA DI OGGI LUNEDI 14 MARZ0 2022, ORE 8.00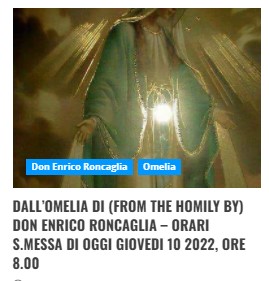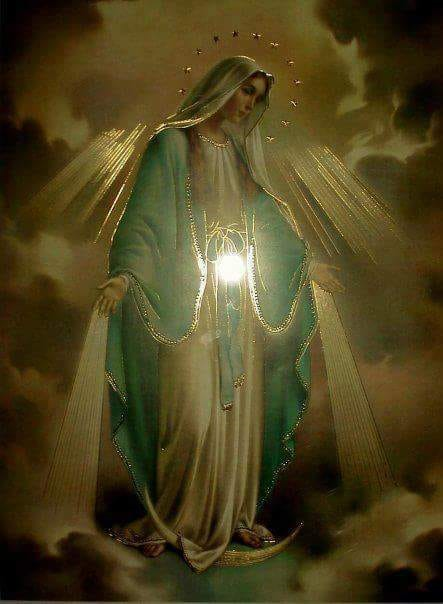 DALL'OMELIA DI DON ENRICO RONCAGLIA (*)
Dan 9:15-19
In quei giorni Daniele profeta pregò il Signore dicendo: «Signore Dio nostro, che traesti il tuo popolo dall'Egitto con potenza, e ti facesti un nome quale ora possiedi: noi abbiamo peccato, abbiamo commesso il peccato contro ogni tuo comandamento. Signore, te ne prego, allontana l'ira e il tuo furore dalla tua città, Gerusalemme, dal tuo monte santo, ché, a causa dei nostri peccati e delle iniquità dei padri nostri, Gerusalemme e il tuo popolo sono lo scherno di tutti quelli che ci stanno d'intorno.
Ps 69:6; 69:3
Adiútor meus et liberátor meus esto: Dómine, ne tardáveris.
Confundántur et revereántur inimíci mei, qui quærunt ánimam meam.
Joann 8:21-29
In quel tempo: disse Gesù alle turbe dei Giudei: «Quanto a me, io me ne vado, e voi invano mi cercherete, e morrete nel vostro peccato. Dove vado io, voi non potete venire». «Quando avrete innalzato il Figlio dell'uomo, allora conoscerete chi "Io sono", e che niente faccio da me, e che dico quello che il Padre mi ha insegnato. Chi mi ha mandato è con me e non mi ha lasciato solo, perché io faccio sempre quanto piace a Lui».
Abbiamo ascoltato il dialogo, molto forte, tra Gesu' e i farisei nel tempio. I Farisei rifiutano Gesu' (il quale infatti dice loro "appartenete solo a questo mondo", "non potete andare dove io vado"). Infatti chi appartiene al mondo non puo' essere salvato. Chi non crede in Gesu' Cristo "Io sono" (ovvero non crede in Gesu' Cristo Dio) non puo' ereditare il regno dei cieli.
Questa situazione si verifica anche al nostro tempo. Vi sono molte anime chiuse a Dio e destinate a perire.
Per questo la BVM piange e prega per noi!
Il profeta Daniele, nella lettura, invoca la misericordia divina su Gerusalemme, figura del popolo di Israele.
Preghiamo anche noi per la salvezza del popolo di Dio!
Sia lodato Gesu' Cristo. Sempre sia lodato!
__________________
(*) Questo commento e' scritto in tempo reale durante l'omelia. Mi scuso per l'eventuale misinterpretazione delle parole di Don Enrico.
FROM THE HOMILY BY DON ENRICO RONCAGLIA (**)
Dan 9: 15-19 In those days Daniel the prophet prayed to the Lord saying: "Lord our God, who brought your people out of Egypt with power, and made yourself a name as you now have: we have sinned, we have committed sin against all your commandments. Lord, please turn away your anger and fury from your city, Jerusalem, from your holy mountain, for because of our sins and the iniquities of our fathers, Jerusalem and your people are the mockery of all. that are around us.
Ps 69: 6; 69: 3 Adiútor meus et liberátor meus esto: Dómine, ne tardáveris. Confundántur et revereántur inimíci mei, qui quærunt ánimam meam.
Joann 8: 21-29 At that time: Jesus said to the throng of the Jews: «As for me, I am going away, and you will look for me in vain, and you will die in your sin. Where I go, you cannot come ». "When you have raised the Son of man, then you will know who" I am ", and that I do nothing of myself, and that I say what the Father has taught me. Whoever sent me is with me and has not left me alone, because I always do what He pleases ».
We listened to the dialogue, very strong, between Jesus and the Pharisees in the temple. The Pharisees reject Jesus ("you belong only to this world", "you cannot go where I go"). In fact, it belongs to the world and cannot be saved.
Anyone who does not believe in Jesus Christ "I am" (that is, you do not believe in Jesus Christ God) cannot inherit the kingdom of heaven.
This situation also occurs in our time.
There are many souls closed to God and destined to perish.
For this the BVM weeps and prays for us!
The prophet Daniel, in reading, invokes divine mercy on Jerusalem, a figure of the people of Israel.
Let us also pray for the salvation of God's people!
Praised be Jesus Christ! Always be praised!
__________________
(*) This comment is written in real time during the homily. I apologize for any misinterpretation of Don Enrico's words.