Confídite, ego sum, nolíte timére!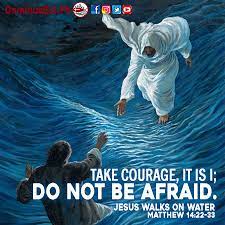 (punto esclamativo aggiunto)
Take courage; it is I, do not be afraid!
(exclamative point added)
ORARI S.MESSA DI OGGI SABATO 5 MARZ0 2022, ORE 8.00 – Sabbato post Cineres ~ III. classis
S.MESSA ONLINE DI DON ENRICO RONCAGLIA, su youtube channel:
E QUI:

EVANGELIUM E OMELIA\HOMILY:
Evangelium
Marc 6:47-56
In illo témpore: Cum sero esset, erat navis in médio mari, et Iesus solus in terra. Et videns discípulos suos laborántes in remigándo – erat enim ventus contrárius eis, – et circa quartam vigíliam noctis venit ad eos ámbulans supra mare: et volébat præteríre eos. At illi, ut vidérunt eum ambulántem supra mare, putavérunt phantásma esse, et exclamavérunt. Omnes enim vidérunt eum, et conturbáti sunt. Et statim locútus est cum eis, et dixit eis: Confídite, ego sum, nolíte timére. Et ascéndit ad illos in navim, et cessávit ventus. Et plus magis intra se stupébant: non enim intellexérunt de pánibus: erat enim cor eórum obcæcátum. Et cum transfretássent, venérunt in terram Genésareth, et applicuérunt. Cumque egréssi essent de navi, contínuo cognovérunt eum: et percurréntes univérsam regiónem illam, cœpérunt in grabátis eos, qui se male habébant, circumférre ubi audiébant eum esse. Et quocúmque introíbat, in vicos vel in villas aut civitátes, in platéis ponébant infírmos, et deprecabántur eum, ut vel fímbriam vestiménti eius tángerent: et quotquot tangébant eum, salvi fiébant.
Gospel
Mark 6:47-56
At that time, when it was late, the ship was in the midst of the sea, and Jesus alone on the land. And seeing His disciples straining at the oars, for the wind was against them, about the fourth watch of the night He came to them, walking upon the sea, and He would have passed by them. But they, seeing Him walking upon the sea, thought it was a ghost, and cried out. For they all saw Him, and were troubled. Then He immediately spoke to them, and said to them, Take courage; it is I, do not be afraid. And He got into the boat with them, and the wind fell. And they were utterly beside themselves with astonishment, for they had not understood about the loaves, because their heart was blinded. And crossing over, they came to the land of Genesareth and moored the boat. And when they had gotten out of the boat, the people at once recognized Him; and they hurried through the whole country, and began to bring the sick on their pallets, wherever they heard He was. And wherever He went, into village or hamlet or town, they laid the sick in the market places, and entreated Him to let them touch but the tassel of His cloak; and as many as touched Him were saved.

DALL'OMELIA DI (FROM THE HOMILY BY) DON ENRICO RONCAGLIA – ORARI S.MESSA DI OGGI SABATO 5 MARZ0 2022, ORE 8.00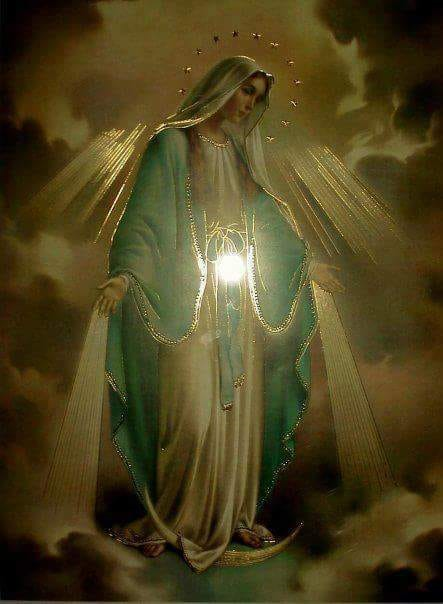 DALL'OMELIA DI DON ENRICO RONCAGLIA (*)
Isa 58:9-14
Queste cose dice il Signore Dio: «Se ti toglierai d'addosso la catena, se cesserai di minacciare e sparlare del prossimo, se aprirai il cuore a chi ha fame e consolerai l'afflitto, la tua luce brillerà nelle tenebre, le tue tenebre diverranno come meriggio.
Marc 6:47-56
Ma subito rivolse loro la parola, dicendo: «Coraggio, son io, non temete». E montò nella barca, da loro, e il vento cessò.
Viviamo nella fiducia questo sabato dedicato a Maria.
Il vangelo parla della tempesta sul lago di Genezareth! Siamo spaventati, ma lui viene vicino a noi e ci esorta alla calma, entrando nella barca.
Cosi tornera' Gesu' nella sua Chiesa! Dobbiamo avere coraggio, non aver paura, come Gesu' ci esorta.
Dobbiamo soprattutto pregare. Perche' con la preghiera possiamo prepararci al suo ritorno. Certo dobbiamo esortare alla fede anche gli altri!
Gesu' non solo soccorre i suoi discepoli ma guarisce i deboli e i malati. La prima lettura ci esorta ad essere solleciti per il nostro prossimo sofferente.
Stiamo vedendo le rovine della Chiesa (e della civilta'). Dovremo ricostruire sulle antiche rovine. Ma dobbiamo aiutare i deboli. Per questo ci ha mandato. Sono le persone deboli e fragili che dobbiamo aiutare!
Ma dobbiamo guardare soprattutto ai diritti di Dio, rispettare il tempo dedicato a Lui! Allora Dio ci ricompensera' con tante Sue Grazie!
Sia lodato Gesu' Cristo. Sempre sia lodato!
__________________
(*) Questo commento e' scritto in tempo reale durante l'omelia. Mi scuso per l'eventuale misinterpretazione delle parole di Don Enrico.
FROM THE HOMILY BY DON ENRICO RONCAGLIA (**)
Isa 58: 9-14 These things the Lord God says: "If you take off the chain, if you stop threatening and gossiping about your neighbor, if you open your heart to the hungry and console the afflicted, your light will shine in the darkness, your darkness they will become like noon.
Marc 6: 47-56 But immediately he spoke to them, saying: "Courage, it's me, do not be afraid." And he got into the boat from them, and the wind stopped.
We live in trust on this Saturday dedicated to Mary.
The gospel speaks of the storm on the lake of Gennesareth!
We are scared, but he comes close to us and urges us to calm down, entering the boat. Thus will Jesus return to his Church!
We must have courage, not be afraid, as Jesus exhorts us. We must above all pray. Because with prayer we can prepare ourselves for his return.
Of course we must also exhort others to faith! Jesus not only helps his disciples but heals the weak and the sick.
The first reading exhorts us to be solicitous for our suffering neighbor.
We are seeing the ruins of the Church (and of civilization). We will have to rebuild on the ancient ruins. But we must help the weak.
That's why he sent us.
It is the weak and frail people we need to help!
But we must look above all to the rights of God, respect the time dedicated to him!
Then God will reward us with many of His Graces!
Praised be Jesus Christ! Always be praised!
__________________
(*) This comment is written in real time during the homily. I apologize for any misinterpretation of Don Enrico's words.