Et ait illi: Amíce, quómodo huc intrásti non habens vestem nuptiálem? At ille obmútuit.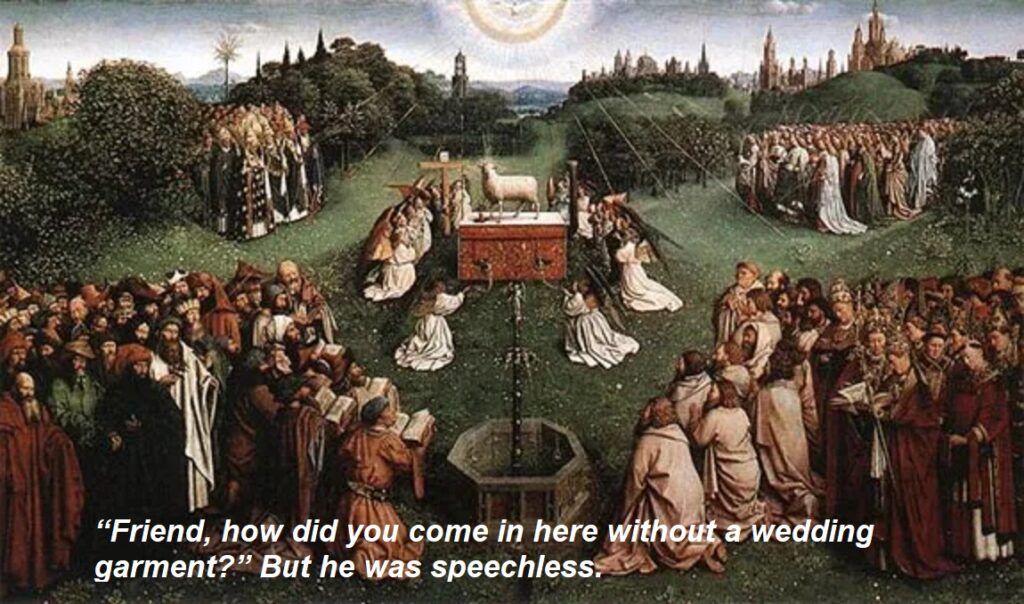 "Friend, how did you come in here without a wedding garment?" But he was speechless.
ORARI S.MESSA/TIMETABLE HOLY MASS DI VENERDI 21 OTTOBRE 2022 ORE 18.00 (S. Messa Votiva del SS. Cuore di Gesù,1537):
Feria Sexta infra Hebdomadam XIX post Octavam Pentecostes III. Octobris ~ IV. classis
Commemoratio: S. Hilarionis Abbatis
e qui:
LITURGIA IN LATINO\ENGLISH:
EVANGELIUM E OMELIA\HOMILY:
Matt 22:1-14
In illo témpore: Loquebátur Iesus princípibus sacerdótum et pharisǽis in parábolis, dicens: Símile factum est regnum cœlórum hómini regi, qui fecit núptias fílio suo. Et misit servos suos vocáre invitátos ad nuptias, et nolébant veníre. Iterum misit álios servos, dicens: Dícite invitátis: Ecce, prándium meum parávi, tauri mei et altília occísa sunt, et ómnia paráta: veníte ad núptias. Illi autem neglexérunt: et abiérunt, álius in villam suam, álius vero ad negotiatiónem suam: réliqui vero tenuérunt servos eius, et contuméliis afféctos occidérunt. Rex autem cum audísset, iratus est: et, missis exercítibus suis, pérdidit homicídas illos et civitátem illórum succéndit. Tunc ait servis suis: Núptiæ quidem parátæ sunt, sed, qui invitáti erant, non fuérunt digni. Ite ergo ad exitus viárum et, quoscúmque invenéritis, vocáte ad núptias. Et egréssi servi eius in vias, congregavérunt omnes, quos invenérunt, malos et bonos: et implétæ sunt núptiæ discumbéntium. Intrávit autem rex, ut vidéret discumbéntes, et vidit ibi hóminem non vestítum veste nuptiáli. Et ait illi: Amíce, quómodo huc intrásti non habens vestem nuptiálem? At ille obmútuit. Tunc dixit rex minístris: Ligátis mánibus et pédibus eius, míttite eum in ténebras exterióres: ibi erit fletus et stridor déntium. Multi enim sunt vocáti, pauci vero elécti.
Gospel
Matt 22:1-14
At that time, Jesus spoke to the chief priests and the Pharisees in parables, saying, The kingdom of heaven is like a king who made a marriage feast for his son. And he sent his servants to call in those invited to the marriage feast, but they would not come. Again he sent out other servants, saying, "Tell those who are invited, behold, I have prepared my dinner; my oxen and fatlings are killed, and everything is ready; come to the marriage feast." But they made light of it, and went off, one to his farm, and another to his business; and the rest laid hold of his servants, treated them shamefully, and killed them. But when the king heard of it, he was angry; and he sent his armies, destroyed those murderers, and burnt their city. Then he said to his servants, "The marriage feast indeed is ready, but those who were invited were not worthy; go therefore to the crossroads, and invite to the marriage feast whomever you shall find." And his servants went out into the roads, and gathered all whom they found, both good and bad; and the marriage feast was filled with guests. Now the king went in to see the guests, and he saw there a man who had not on a wedding garment. And he said to him, "Friend, how did you come in here without a wedding garment?" But he was speechless. Then the king said to the attendants, "Bind his hands and feet and cast him forth into the darkness outside, where there will be the weeping and the gnashing of teeth." For many are called, but few are chosen.
Luke 12:35-40

DALL'OMELIA DI (FROM THE HOMILY BY) DON ENRICO RONCAGLIA – VENERDI 21 OTTOBRE 2022 ORE 18.00: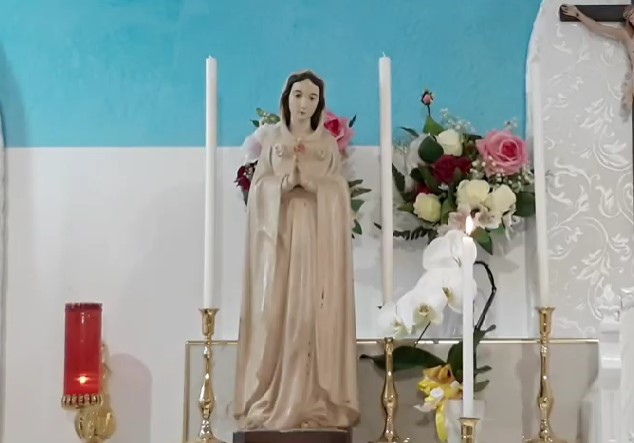 DALL'OMELIA DI DON ENRICO RONCAGLIA (**,1)
Nella prima lettura San Paolo afferma che il suo compito, assegnatoli da Gesu', e' quello di evangelizzare le Genti. Raccomanda la carita' di cui dobbiamo imparare a conoscere, l'altezza, la profondita' e la larghezza.
Nel Vangelo e' tempo della Parasceve. Gesu' muore sulla croce dopo aver adempiuto alle scritture, ed e' colpito dalla lancia del centurione. Ma le guardie non gli spezzarono le gambe. E chi ha veduto ne da testimonianza!
Le letture ci fanno capire che in Cristo si e' manifestato tutto l'amore di Dio! Gesu' e' morto per noi suilla croce. Dobbiamo ringraziare Dio per tutte le grazie che ci concede!
Egli dispone ogni cosa nella nostra vita per il nostro bene!
Dobbiamo imparare da Gesu'!
Sia lodato Gesu' Cristo! Sempre sia lodato!
____________________
(*) Questo commento e' scritto in tempo reale durante l'omelia. Mi scuso per l'eventuale misinterpretazione delle parole di Don Enrico.
(1) La Cappella dei Sacri Cuori e' d'ora in avanti sotto la protezione della Madonna Pellegrina di Montichiari (Brescia, 1946).
FROM THE HOMILY BY DON ENRICO RONCAGLIA (**,1)  
In the first reading, St. Paul affirms that his task, assigned to him by Jesus, is that of evangelizing the peoples.
He recommends the charity of which we must learn to know, the height, depth and breadth. In the Gospel, it is the time of the Parasceve.
Jesus dies on the cross after having fulfilled the scriptures, and is struck by the centurion's spear. But the guards didn't break his legs.
And who has seen it gives testimony!
The readings make us understand that all of God's love was manifested in Christ! Jesus died for us on the cross.
We must thank God for all the graces he grants us! He arranges everything in our life for our good!
We must learn from Jesus!
Praised be Jesus Christ! Always be praised!
____________________
(*) This comment is written in real time during the homily. I apologize for any misinterpretation of Don Enrico's words.
(1) The Chapel of the Sacred Hearts is from now on under the protection of the Pilgrim Madonna of Montichiari (Brescia, 1946).